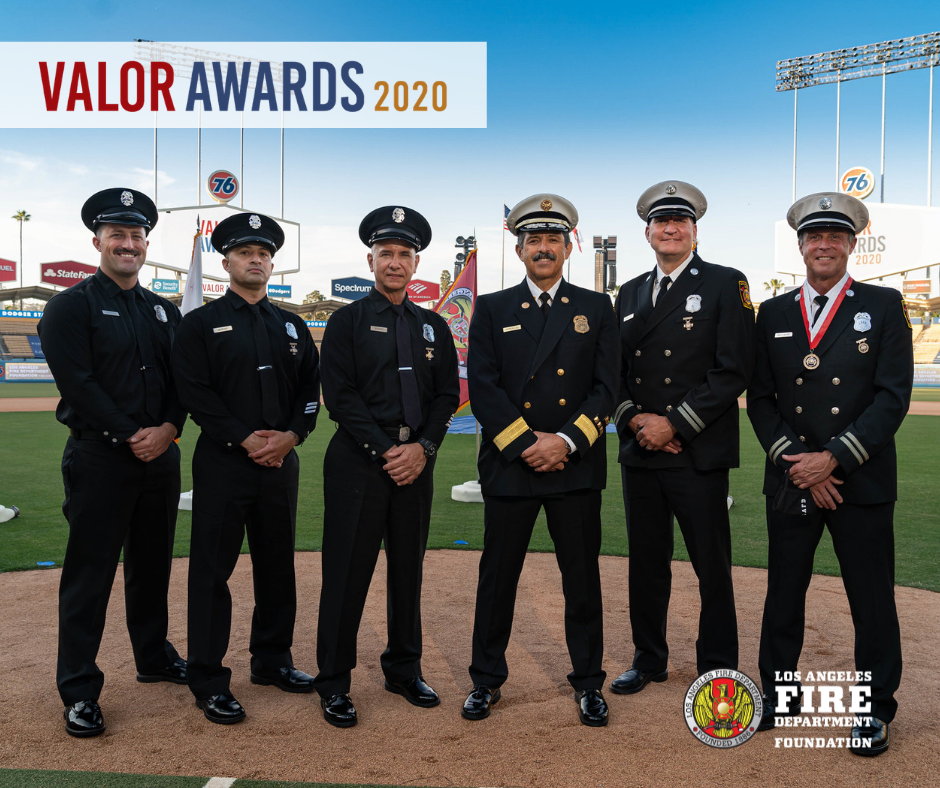 Left to right: Firefighter Cody Crippen, Engineer Robert Medrano, Firefighter/Paramedic Wesley Manning, Chief Ralph Terrazas, Captain Rob Scott, and Captain Kenneth Willahan.
Los Angeles, CA | May 5, 2021 – The Los Angeles Fire Department (LAFD) and LAFD Foundation held the 2020 VALOR Awards ceremony at Dodger Stadium. VALOR is the LAFD's annual ceremony honoring exemplary LAFD members for outstanding service above and beyond the call of duty. Originally slated for November of 2020, the ceremony was unfortunately postponed due to safety concerns and pandemic protocols.
The ceremony marked the first private event to be held at Dodger Stadium since March of 2020. The audience of 100 attendees had front-row seats to the intimate, on-field program, which opened with remarks from Mayor Eric Garcetti and Los Angeles City Fire Department Chief Ralph Terrazas. NBC4's Robert Kovacik graciously served as the master of ceremonies for the fourth consecutive year.
The hour-long event recognized five individual members of the Department for their heroic acts, each with a unique and moving story highlighting their bravery, courage, and commitment to the city. Captain II, Kenneth Willahan received the department's highest honor, the Medal of Valor, for rescuing a pregnant woman and her small child during a river rafting excursion on the Colorado River. Three firefighters were honored with the Medal of Merit and another received a Special Commendation for their courageous actions during other emergencies.
2020 VALOR Honorees:
CORE – Community Organized Relief Effort, Community Impact Award
Farmers Insurance, Corporate Impact Award
Station 9, Skid Row, Station of the Year Award
Firefighter III, Cody Crippen, Letter of Special Commendation
Firefighter III/Paramedic, Wes Manning, Medal of Merit
Engineer, Robert Medrano, Medal of Merit
Captain I, Rob Scott, Medal of Merit
Captain II, Kenneth Willahan, Medal of Valor
"On behalf of the entire Los Angeles City Fire Department, I express our gratitude to all our Medal of Valor, Medal of Merit, and Special Commendation honorees who selflessly risked their lives in protection of others," shared Chief Terrazas. "I am also grateful to our Community Impact Award recipient, CORE, for their tremendous partnership during the ongoing pandemic, as well as Farmers Insurance, recipient of the Corporate Impact Award."
The 2020 VALOR Awards were made possible thanks to support from presenting sponsors, the Los Angeles Dodgers, and Harbor Freight Tools Foundation, and platinum sponsors - Air Lease Corporation and Unibail-Rodamco-Westfield.