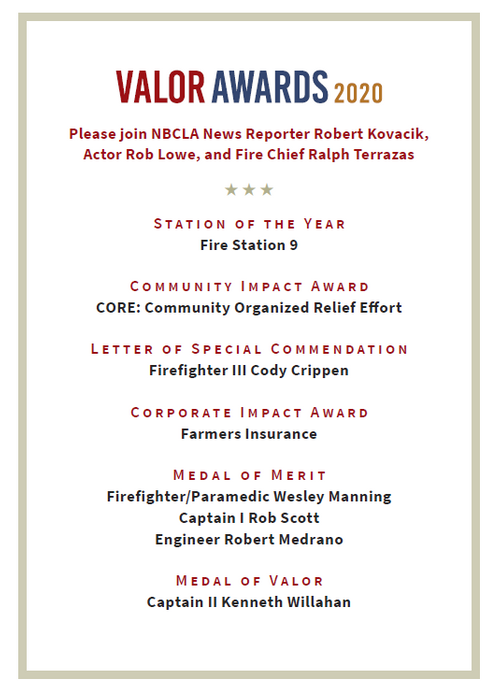 WELCOME
VALOR is the Los Angeles Fire Department's annual awards ceremony honoring exemplary LAFD members for outstanding service that goes above and beyond the call of duty. Please join us for an exciting virtual celebration of the life-saving work of the LAFD.
To stay in accordance with Los Angeles County Pandemic Guidelines, The Valor Awards 2020 will be live-streamed from Dodger Stadium. Please return to this page at 5:00pm on November 5th, 2020 to watch the ceremony live. 
And check back on Monday, November 2nd to check out our silent auction packages, which will run from 11/2 through 11/6.
FUNDS RAISED: All proceed raised through corporate sponsorship, text-to-give donations, and the silent auction will benefit the Los Angeles Fire Department Foundation to purchase life-saving equipment that the city's budget does cannot cover.
This year's anticipated funding priorities include:
• Wildland brush clearance tools that help protect homes in high-risk areas
• Improved structure fire gloves for every firefighter
• COVID-related PPE for firefighters and patients