CURRENT FUNDING PRIORITIES
The LAFD Foundation channels community and corporate support into tangible resources for L.A.'s firefighters. For more than a decade, the LAFD Foundation has bridged critical gaps to secure essential equipment and support vital safety programs that would otherwise go unfunded. Every donated dollar has a direct and meaningful impact on those who risk their lives to keep Los Angeles safe.
---
Just 3% of the city's fire budget is allocated for everything from fire engines to flashlights.
Firefighters often rely on equipment that is in use well beyond its intended service life.
---
As the Fire Department's official non-profit arm, the LAFD Foundation focuses its fundraising efforts on projects that:
Improve firefighter health, safety and wellness
Affect firefighters' ability to perform their life-saving duty
Expand the resources relied upon to protect lives, homes and the environment
The Foundation works closely with Fire Chief Kristin Crowley, her leadership team, and various LAFD specialty units to determine immediate funding needs and ongoing support opportunities. Current funding objectives are listed below.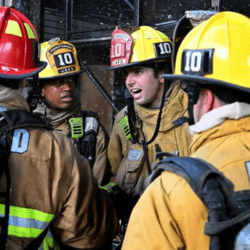 Structure Fire Helmets
Unit Cost: $330 | 3,500 Units Requested 
Total Cost: $1,155,000 
The LAFD works to upgrade first responder personal protective equipment (PPE) in order to meet the requirements of the updated industry standards. After extended field testing, the LAFD chose MSA-CAIRNS 1044 to provide a "traditional style composite" structural firefighting helmet that is compliant with standards issued by the National Fire Protection Association (NFPA) and American Society for Testing and Materials (ASTM).  
The MSA CAIRNS 1044 Structure Firefighting Helmet was selected from a broad field of competitors after intense testing and evaluation as being the best-equipped helmet for the safety of the members of the LAFD. Once distributed to the field, firefighters began encountering some problems with the model such as weight, problems with the crown, and unwieldy Velcro straps.  
The manufacturer has issued a new lighter version, featuring a  ½" lower crown, extra adjustments, an articulating nape strap, and a toolless soft goods changeout. The LAFD Foundation would like to raise enough funds to replace the heavier helmets for all current LAFD sworn personnel.  
---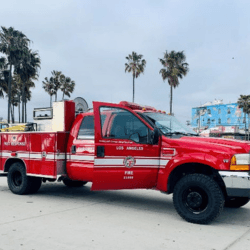 Fast Response Vehicle Converters
Unit Cost: $32,323 | 10 Units Needed 
Total Cost: $323,323 
Currently, the LAFD is experiencing a backlog of rescue ambulances due to supply chain issues with the manufacturer.  In order to address the influx of  
9-1-1 calls and to help relieve the pressures off of existing resources, the LAFD created an alternative solution that uses current vehicles in a multi-functional capacity.  
The LAFD plans to use its existing fleet of Dodge Ram 3500 pickup trucks and convert them into FRVs (Fast Response Vehicles).  The conversion of these vehicles will enable them to serve both as fast-response Advanced Life Support Units and as fire-suppression vehicles. The FRVs will carry the same equipment and medical supplies as a paramedic Mobile Intensive Care Unit and will also be equipped with a 150–300-gallon water tank with pumping capacity. 
These FRVs can be built in approximately eight weeks and will be immediately deployed into the field. They will be able to 
function in a medical capacity,  

extinguish small rubbish and tent fires,  

and can aid in patrol for larger brush fires within the City. 
The LAFD currently has two medical FRVs that are staffed 24 hours by a firefighter/paramedic and a firefighter/emergency medical technician (EMT). Since this pilot concept has proven to be successful, the LAFD would like to expand both the fleet and the capabilities with the proposed FRV conversions.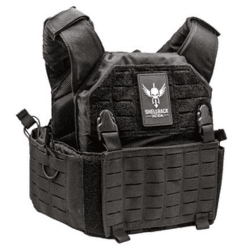 Body Armor & Tactical Gear
Total Cost: $60,000 for the Arson Unit *immediate need
Unit Cost: $400; Total Cost $1,400,000 for the entire LAFD
The LAFD personnel have fitted body armor as part of their standard operating procedure. However, the existing armor has exceeded its shelf life and budget restrictions have limited the ability to purchase new armor. Body armor is used when LAFD personnel are responding to assaults, stabbings, shootings, or any situation that could potentially turn violent. The most immediate need to is outfit the LAFD Arson Unit with upgraded armor and tactical gear. Body armor vests became required equipment for members of the Los Angeles Fire Department after the 1992 riots, when firefighters battling blazes became targets of people with guns. Over the past couple of years, LAFD firefighters have faced increased rates of violence when responding to 9-1-1 calls. This has led to an increased focus to provide the men and women of the LAFD with as much protection as possible.
---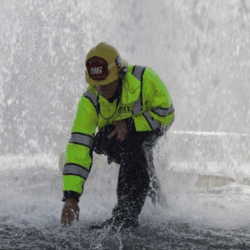 High Visibility Rain Jackets
Unit Cost: $135 | 3,500 Units Requested
Total Cost: $472,500
The National Weather Service is predicting that there is a "greater than 90% chance" that El Niño, which developed unusually early this year, will last through winter and into early 2024. With these types of weather patterns, LAFD firefighters will see an uptick in a variety of stormy weather-related incidents including sinkholes, mudslides, river rescues, and car accidents. These new and upgraded raincoats offer more durability, water resistance, and will enhance firefighter safety due to the reflective tape.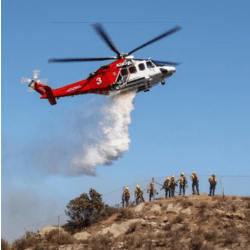 Air Operations Flight Data Monitoring System
Total Cost: $123,000
The LAFD Air Operation Section is requesting funding for a Flight Data Monitoring (FDM) System. FDM technology integrates flight-following tracking with the aircraft's onboard systems. This system provides real-time location and immediate notification to remote users in the event of an aircraft system warning or failure. The current system that the LAFD uses tracks each helicopter via satellite. The tracking of each helicopter is displayed on a single monitor and updated every 30 seconds. There are no provisions with the current flight following product for emergency notification or tracking integration with aircraft warning and failure systems in the event of an incident impacting the airworthiness of the aircraft. The addition of the FDM will expand on the current program and provide an integrated flight following and systems warning program which will ultimately enhance the safety of all passengers and crew during transport on helicopters.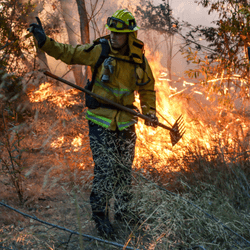 LAFD CREW 4 EQUIPMENT
Cost: $50,000
In an effort to devote more staffing to wildland suppression and firefighting, the LAFD received approval for the creation of Crew 4 – a fulltime cadre of wildland firefighters dedicated to brush clearance and brush fire suppression.  
The newly established crew will consist of two 26-member teams. Funding support is needed to outfit the incoming crew with basic gear, such as fire shelters, brush jackets, helmets, hand tools, chainsaws, equipment-hauling packs, and necessities for the rigors of protecting communities and habitats with wildland interface. 
Crew 4 is gearing up now for the 2023 fire season. Their objective will be to clear hundreds of miles of brush along fire and access roads near high-risk neighborhoods and hillside communities. During fires, these firefighters will hand-cut defensive lines in rugged terrain to help with active fire containment.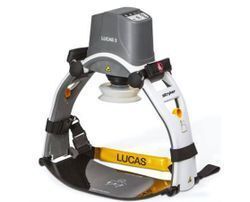 LUCAS CHEST COMPRESSION SYSTEMS
Unit Cost: $18,000 | Four units needed 
Total Cost: $72,000 
More than 85% of the 9-1-1 calls the LAFD responds to are medical emergencies. Department Rescue Ambulances (RAs) transport about 590 people to area hospitals each day, with many of these incidents involving patients in cardiac arrest. 
When a firefighter or paramedic performs chest compressions on a patient in cardiac arrest, multiple compressions are needed to build up and maintain adequate intravascular pressure for proper perfusion (the passage of fluid through the circulatory system or lymphatic system to organs or tissues).  
Continuity is critical when delivering chest compressions. Even a slight halt can lead to pressure loss, resulting in suboptimal perfusion of the heart and brain. For this reason, it is critical that compression interruptions be kept to a minimum to help increase a patient's chances of survival and recovery. 
The LUCAS device is a highly advanced, yet easy-to-use mechanical chest compression device that helps paramedics deliver hands-free consistent chest compressions to patients in the field, or in the back of the ambulance while in route the hospital. These systems are already delivering promising results for other major metropolitan fire departments. 
The LAFD's Emergency Medical Services (EMS) Bureau hopes to equip each four Advanced Provider Response Unit (APRU) ambulances with a LUCAS device – one device per geographic bureau. The cost of each system is approximately $18,000.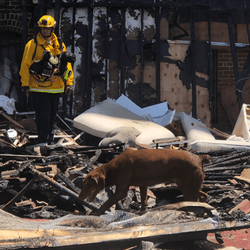 US&R CANINE SEARCH SPECIALIST SUPPORT
Total Cost: $10,000
The LAFD utilizes specially trained dogs in its Urban Search and Rescue (US&R) operations.
The program's eight members and 12 working dogs (eight live find dogs, and four human remains detection dogs) frequently deploy to a variety of incident types ranging from wildfires to structural collapses, to mudslides.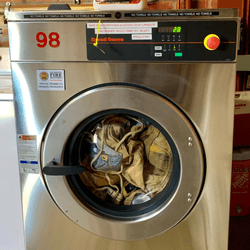 EXTRACTORS
Unit Cost: Approximately $9,500 | Six units needed 
Total Cost: $58,000 
Due to their frequent and prolonged exposures to carcinogens, firefighters are 14% more likely to die of cancer-related illness. Extractors are a vital asset in the LAFD's fight to reduce occurrences of occupational cancer.  
These machines are essentially commercial-grade washers that remove carcinogens and other harmful particulates from soiled and contaminated turnout gear. An extractor purges toxins from turnout gear with the power and speed of 100-Gs (one hundred times the force of gravity). 
Having an extractor on-site at each fire station is the LAFD's goal, so firefighters can immediately wash their contaminated gear upon returning from an incident. The LAFD Foundation aims to purchase six extractors during the FY22-23 cycle.
---
For more information about the funding priorities outlined above, please contact:  
Tara Gurlides 
Development Director  
(310) 552-4139 
Tara@supportLAFD.org