Current LAFD Funding Requests
The Los Angeles Fire Department Foundation (LAFD Foundation) is a non-profit organization that provides funding for the needs of our city's firefighters. About 97% of the city's budget for the Los Angeles Fire Department (LAFD) covers salaries and benefits, leaving just 3% to cover the cost of essential equipment, new technology and training programs.
That's where we step in.
The Foundation is committed to keeping our firefighters safe by securing newer, better equipment, implementing faster, smarter technology, and advancing preventative measures to combat near and long-term health risks. We channel support and donations from individuals, businesses, organizations, and foundations across the Southland into tools and tangible resources for our brave LAFD firefighters.
The LAFD Foundation is actively seeking funds to equip our LAFD firefighters with the following: 
---
PROTECTING OUR FIREFIGHTERS FROM COVID-19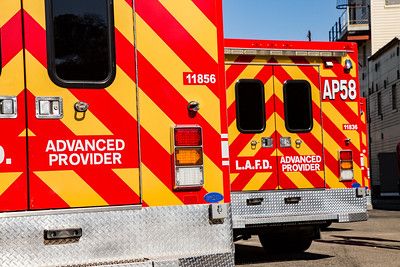 Los Angeles Mayor Eric Garcetti declared a local emergency to strengthen preparation against COVID-19, a move to help the city respond more quickly and effectively to the spread of the virus.
Due to changes in safety protocol and increased precautionary steps, our LAFD firefighters are rapidly depleting the department's stock of personal protective gear – such as gowns, gloves hand sanitizer, and other resources used to prevent the virus from spreading.
Minimizing their exposure to COVID-19 must be a top priority. More than 4 million people across L.A. depend on our firefighters to remain healthy and ready to respond.
The LAFD is also in need of facemasks – not for firefighters, but for potentially compromised patients transported via ambulance.
Patients displaying signs/symptoms of the virus are fitted with single-use facemasks to reduce the chance of potentially passing the virus to our first responders.
The LAFD Foundation is accepting funds to help purchase and replenish these important safety items for our men and women on the front lines.
Financial contributions are the fastest and most effective way to help the LAFD Foundation fulfill these needs as quickly as possible.
In the event donations exceed the LAFD's coronavirus-related needs, any remaining funds will be used to purchase important safety equipment for the upcoming wildfire season, such as personal fire shelters.
---
Firefighter Health & Safety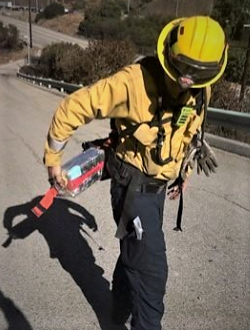 FIRE SHELTERS
Our goal is to provide all 3,500 LAFD firefighters with a personal, emergency fire shelter which they will carry with them when fighting brush fires. These shelters are used as a last resort for firefighters who become trapped by a wildfire.
The fire shelters are light, compact and quickly deployed, designed to reflect radiant heat, protect against convective heat and traps breathable air. The cost for each life-saving shelter is approximately $343 per unit.
Donate to fund fire shelters here. 
---
WILDFIRE PREPAREDNESS & RESPONSE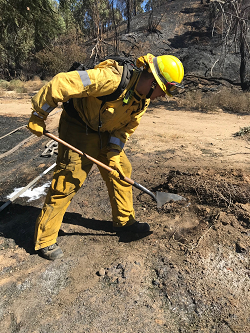 BRUSH CLEARANCE HAND TOOLS
Wildfire shovels, Rhino tools, and Pulaski tools help clear land quickly and create firebreaks. These tools are also used year-round for brush clearance and fire prevention. Engineered to the rigorous performance specs of the LAFD, these hand tools allow our firefighters to cut through tree limbs and brush, dig out burning material, and throw soil onto flaming fuel with minimal fatigue.
WILDLAND SHOVEL
This shovel is ideal for cutting through tree limbs and brush, digging out burning material, throwing soil on flaming fuel and scraping combustible material down to mineral soil.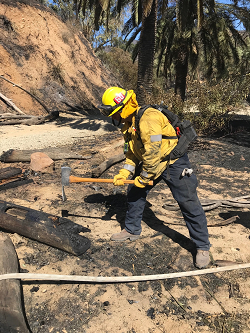 WILDLAND RHINO
This reinvented shovel can clear land quickly and is ideal for chipping and cutting through limbs and brush. The Rhino is lightweight, extremely durable and helps to minimize firefighter fatigue.
PULASKI TOOL
The Pulaski is a special hand tool, part axe and part adze blade and is used in wildland firefighting. A common use for the Pulaski is in creating fire breaks - sections of land devoid of vegetation which can help contain forest fires. Firefighters chop down trees with the axe side, cutting away roots and shrubs and dig barriers with with the adze blade. 
---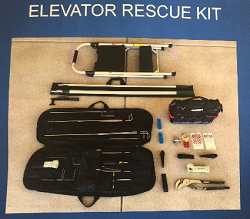 ELEVATOR RESCUE KITS
In 2018-19 alone, the LAFD responded to over 4,000 elevator entrapments. Until recently, the only two rescue choices were to contact an elevator repair company and wait for technician assistance, or for the LAFD to break open the elevator doors to access the passengers.
A team of specialized LAFD firefighters has developed a 32-piece kit that can essentially gain entry to any elevator within the City of Los Angeles. Once deployed to the field, this kit will reduce waiting times, increase efficiency, and would not cause damage to the building or elevator system. 
 
---
Technology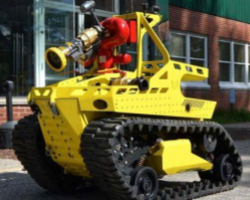 The LAFD is interested in securing a firefighting robot for use in various large-scale scenarios that are either too dangerous or risky for firefighters. A similar robot was used to battle the 2019 blaze at Notre Dame Cathedral when the structure was deemed unstable and too dangerous to enter.  
A firefighting robot would be able to assist with commercial fires, fires involving combustible metals, hazmat incidents, barricaded suspects with fire, and oil refinery fires. If purchased, the LAFD would be one of the first municipal fire departments in the U.S. to possess this specialized asset.