2022 Funding Priorities
Demands on our LAFD firefighters are seemingly endless. City resources are regrettably finite. Despite the breadth and scope of everything the LAFD handles, budget limitations continually hinder the Department's ability to secure needed tools, technology, and equipment.
The members of the LAFD have immediate funding needs for items that help keep them safe in the line of duty. 
These needs range from resources for wildfire season and widespread disasters to equipment for everyday emergencies and specialty units.
Just 3% of the city's fire budget is allocated for everything from fire engines to flashlights. Firefighters often rely on equipment that is in use well beyond its intended service life.
Budget constraints limit the Department's ability to close critical funding gaps – a difficulty worsened by the pandemic's financial fallout. As the Fire Department's official non-profit arm, the LAFD Foundation seeks the community's help in fulfilling the most pressing needs.
The Foundation worked closely with Chief Ralph Terrazas, his leadership team, and various LAFD specialty units to prioritize funding the gear, equipment, and resources that will help keep firefighters safe in the line of duty. The LAFD's current funding priorities are listed below.
---
The LAFD Foundation is actively seeking funds to secure the items and equipment listed below.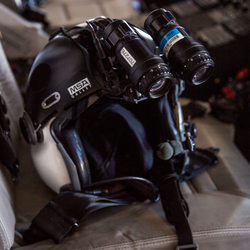 Night Vision Goggles
Approximately $13,500 per set, including mounting hardware
Total Cost: $67,000
Night vision goggles (NVGs) are worn by the LAFD's helicopter pilots while conducting nighttime and low visibility operations. The goggles are necessary for pilots during brush fires, search and rescue missions, and other emergencies with potential structural or natural flight hazards.
NVGs provide the ability to zero in on the heart of a wildfire by locating hot spots – an easier and more efficient task conducted at night.
Most importantly, the NVGs allow the pilots to deploy more accurate water drops.
The LAFD's goggles are safety tested and inspected every six months. During the most recent inspection, two pairs of goggles failed to pass, and additional pairs are nearing the end of their service life. Each set of goggles costs approximately $11,000, with an additional $2,500 in mounting hardware costs. The LAFD needs to secure five sets of goggles in preparation for the 2021 fire season.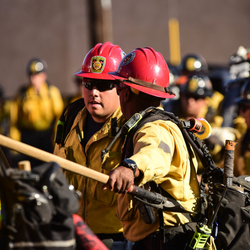 Brush Fire Helmets
Approximately $45 per helmet
Total Cost: $32,500
Every LAFD member assigned to wildfire duties must be equipped with a brush fire helmet as part of their personal protective gear. The lightweight, flame-resistant helmets provide impact and penetration protection during dangerous firefighting and brush clearance conditions.
The Department is in the process of replacing existing brush fire helmets nearing the end of their service life. The immediate need lies in replacing the brush helmets worn by fire captains and the Crew 3 brush clearance hand crew members.
The current helmets worn by LAFD captains will be replaced with the upgraded model in a red colorway. The color change will help with visual communications and make captains more easily identifiable to field members working in wildland environments. Crew 3 members will be provided with the new helmet model in the crew's signature black colorway.
The Department is seeking assistance replacing 660 captain's helmets and securing 60 new helmets for Crew 3 volunteers.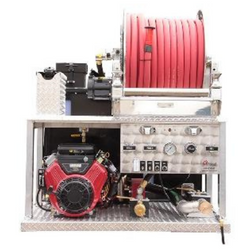 Brush Patrol Skid Units
Approximately $15,000 per unit
Total Cost: $75,000
Skid units consist of a motor, high-powered water pump, 200-gallon reservoir, and 200 feet of hose, and all are affixed on an aluminum frame. The skid units are designed to be easily mounted to the bed of a pickup truck. These units can become essentially covert a standard Department pickup truck into a versatile firefighting resource.
Just a two-member crew can operate skid unit-equipped pickups. During brush fires, they are primary deployed to extinguish hot spots or defend high-risk areas and residential communities from encroaching flames. Strategic use of skid unit-equipped trucks allows the Department to keep larger apparatus at the forefront of the firefights. The LAFD is requesting help outfitting five existing brush patrol pickups with new skid units.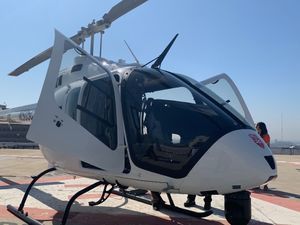 Light-Duty Helicopter
Total Cost: Approximately $2,600,000
The LAFD's Air Operations Unit uses light-duty helicopters for HELCO (command, control, and observation) on wildfires, high-rise fires, and other major emergency incidents requiring multiple aircraft. The HELCO team is responsible for managing the air space and flight communications for all responding aircraft and providing real-time situational analysis for incident commanders.
The Department's three light-duty Bell 206 models have logged heavy usage and require frequent, labor-intensive maintenance that prevents one (or both) aircraft from being mission-ready. The inconsistent availability of the current light-duty models requires the Department to redirect a medium-duty helicopter often to handle HELCO duties, resulting in fewer water-dropping aircraft available to help with firefights.
The Air Operations Unit is in immediate need of a new light-duty model. The requested replacement model is the Bell 505, ideally suited due to its versatility, affordability, and extensive customization options. The 505 can be outfitted to the LAFD's performance and equipment specifications, including searchlights, thermal and infrared imaging, and even water-dropping capabilities. The 505 can also remain airborne for up to four hours without refueling.

Crew 3 is the LAFD brush clearance unit comprised entirely of volunteers. These members are the unsung heroes before, during, and after fire season. They have the back-breaking task of clearing wildfire fuel (dry grasses, shrubs, brush, dead trees, and general overgrowth) away from high-risk neighborhoods. During active fires, they are deployed to the frontlines to hand-cut fire breaks, which provide air and ground resources valuable time to protect lives and property.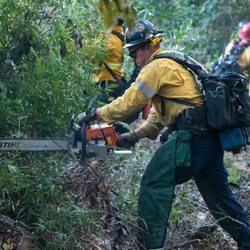 Wildland Chainsaws
Approximately $1,500 per unit
Total Cost: $15,000
Chainsaws are used year-round for brush clearance and fire prevention. Engineered to the rigorous performance specifications of the LAFD, these chainsaws allow firefighters and Crew 3 members to cut away brush and dead trees to create linear breaks or gaps in vegetation to help with fire containment. 
The LAFD's specialized chainsaws are lightweight for easy maneuverability and extra sturdy to cut through logs, fallen tree limbs, and heavy brush. The Department is seeking funding for 10 new chainsaws in anticipation of the 2021 fire season.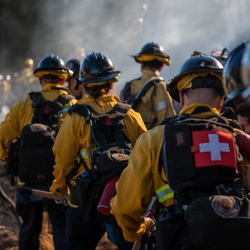 Crew Packs 
Approximately $350 per unit 
Total Cost: $21,000 
These rugged, load-bearing packs are used to haul 50+ lbs. of equipment and essentials across wildland terrain. The packs are a crew member's lifeline once they walk away from their vehicle.
The packs house everything needed for up to 24 hours, including their radio equipment, emergency fire shelter, food, and supplies like batteries, extra chainsaw chains, fuel and hydraulic oil for power tools, fire fuses, and spare clothing. The packs are also equipped with a hydration reservoir.
The LAFD's Wildland Fuel Management Unit is seeking funding to obtain 60 packs for Crew 3 volunteers as soon as possible.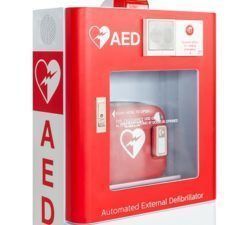 Automated External Defibrillator (AED)
Unit Cost: $2,100   
More than 85% of the 9-1-1 calls the LAFD responds to are medical emergencies. Department Rescue Ambulances (RAs) transport about 590 people to area hospitals each day, with many of these incidents involving patients in cardiac arrest. 
An automated external defibrillator (AED) is a medical device designed to analyze the heart rhythm and deliver an electric shock to victims of ventricular fibrillation to restore the heart rhythm to normal. Ventricular fibrillation is the uncoordinated heart rhythm most often responsible for sudden cardiac arrest.
The LAFD's Emergency Medical Services (EMS) Bureau hopes to equip the busiest ambulances in the city with one automated external defibrillator. Thanks to a generous matching grant of $225,000 from a loyal LAFD supporter, the Foundation hopes to expedite acquiring this life-saving technology.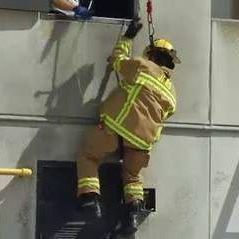 Structure Fire Bailout Systems 
Total Cost: $438,000  
High-rise and multi-level structure fires can create dangerous and unpredictable environments for firefighters. In extreme situations when an incident is deemed unsafe, firefighters may have no choice but to escape by deploying this bailout system to safely rappel down the outside of an engulfed or unstable building. 
Each firefighter's bailout system is comprised of three main components:  
a harness/attachment
a descending rope
a safety hook
The LAFD needs to purchase additional bailout equipment and modify its aging escape systems to ensure maximum safety for our firefighters.

Urban Search and Rescue (USAR) involves the location, extrication, and initial medical stabilization of victims trapped in confined spaces. USAR is considered a "multi-hazard" discipline since it may be needed for various emergencies or disasters, such as structure fires, construction accidents, earthquakes, storms, floods, dam failures, technological accidents, hazardous materials releases, etc. acts of terror. 
This highly specialized team frequently responds to incidents in Los Angeles but also deploys throughout the state and across the country. The LAFD's USAR team requires the following tools and equipment.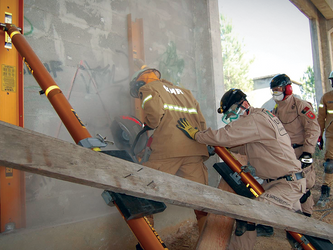 Raker Shore Expansion Kits 
6 kits at $10,000 per kit 
Total Cost: $60,000 
Structural collapse incidents involving outward leaning walls require USAR crews to erect raker systems - part of shoring a structure to provide safe entry and exit for life hazard operations.  
These systems deploy quickly to support the load of unstable walls while firefighters perform their life-saving work. 
The process of shoring a wall often requires multiple raker systems to be placed. The expansion kits requested by the USAR team will allow rescuers to quickly establish a shoring system around rubble piles without the need for traditional lumber resources.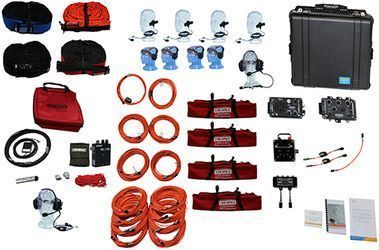 Two-Way Voice Communication & Rescue Systems 
Seven kits at $22,230 per kit 
Total Cost: $155,610 
Reliable communication amongst USAR team members is of the utmost importance. This comprehensive kit can be configured according to the type of rescue required. It provides hands-free, simultaneous two-way (private) communication between the victim and the rescuers. The system is specially designed for the following complex operations: 
Confined space rescue 
Collapse structure rescue 
Trench rescue 
Mine rescue 
High angle rescue 
Shoring & tunneling 
Victim location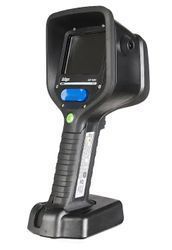 Thermal Imaging Cameras 
Four cameras at $8,000 per kit 
Total Cost: $32,000 
USAR rescuers often encounter unseen challenges and dangers. Advanced thermal imaging cameras provide valuable information about rapidly changing conditions when flames, smoke, and darkness create a dangerous environment. These ergonomic, easy-to-use cameras will help firefighters navigate difficult surroundings, locate victims and hotspots, and protect their personal safety. 
---
For more information about the funding priorities outlined above, please contact:  
Tara Gurlides 
Development Director  
(310) 552-4139 
Tara@supportLAFD.org