FIREFIGHTERS OF THE MONTH
---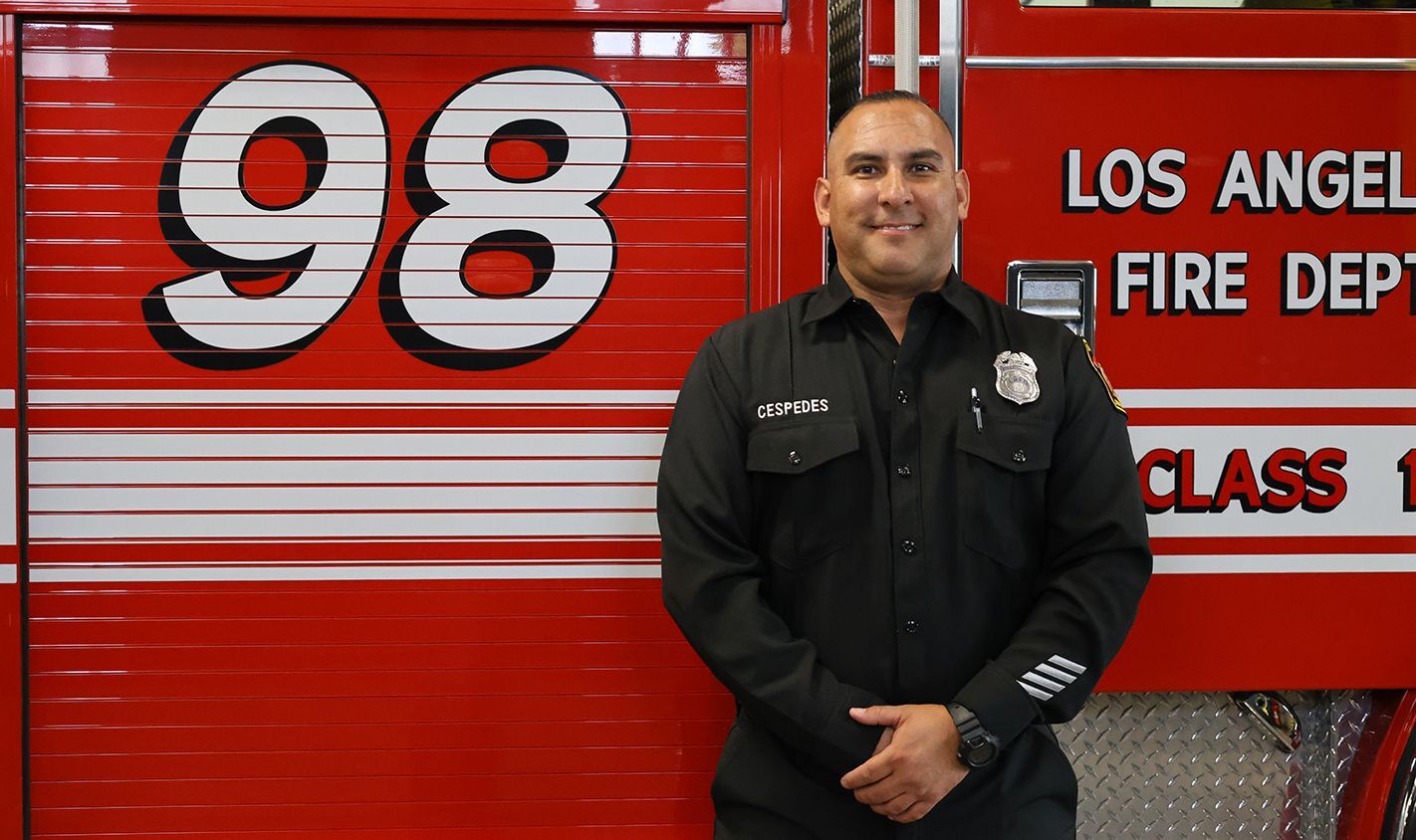 FIREFIGHTER OF THE MONTH
MAY 2023
OSCAR CESPEDES, FIREFIGHTER/EIT

FIRE STATION 98, VALLEY BUREAU
"This organization has given so much to me. I'm humbled by this honor."
Oscar Cespedes knew from an early age that he wanted to be a firefighter. His father raised him to focus on helping others and be a productive member of the community. Oscar remembers watching footage of firefighters from the Los Angeles Fire Department (LAFD) charging into dangerous situations on the news. "As a firefighter, you had to be a jack-of-all-trades."
A family friend, Engineer Pedro Alonzo (retired LAFD), nurtured Oscar's interest in pursuing a career in public safety. "[Pedro] gave me his old turnout gear and encouraged me to join the [LAFD] Explorer Program. I actually ended up right here, at Fire Station 98."
Oscar's father encouraged him to pursue this passion, and soon he was on his way to becoming a firefighter. "There were a lot of departments hiring, but I knew it had to be the LAFD. It is the best fire department in the world, and I wanted to be a part of it."
Now, 21 years after first donning the uniform, Oscar has trained as an Emergency Incident Technician and serves as the Chief's Adjutant for Battalion 12. "It's an important and challenging role. When someone hits that 'mayday,' we're the safety net." Working as an EIT means supporting an incident from a macro perspective, tracking the movement of individual firefighters through the chaos and confusion of any operation. "It's command and control, keeping things organized, managing resources, and coming up with plans in case things go sideways."
Oscar attributes his success as the Chief's Adjutant to his daughter Brooke. "When she came into my life, it changed everything. I knew I would do anything to take care of her, and that meant taking better care of myself too. It meant approaching my job with more maturity and care. In this position, that [mindset] is how you keep everyone else safe."
Captain Steve Lopez pushed for Oscar's recognition. "He's not just a great firefighter. He's a great person. One of the best people I've worked with." Captain Gregory Galvez of fire station 98 agrees. "Firefighter Cespedes works hard and looks after you. A great guy to have on the team."
In the future, Oscar aims to continue his career with the LAFD. "When I was younger, playing sports or in martial arts, I always sought out leadership roles. I was a peer trainer at the Drill Tower, and throughout my career I've looked for ways to keep learning and training. No matter where I am, my goal is the same: I want to make sure that when I leave, I made things better for you."
Oscar remains humbled by being named Firefighter of the Month. "I mean, it's these guys [gestures toward the fire station] doing the hard work. They deserve this. Everyone deserves recognition." He expresses continued gratitude for his time with the LAFD and looks forward to the future. "In the LAFD, one person can be a solution. Someone you can rely on."
---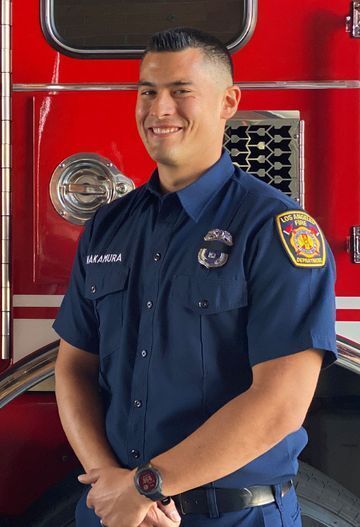 FIREFIGHTER OF THE MONTH 
APRIL 2023 
FIREFIGHTER DANIEL NAKAMURA 

FIRE STATION 33, SOUTH BUREAU 
"In moments of crisis, I want to be there."
Firefighter Daniel Nakamura heard the call toward a life of service at an early age. Born in Pomona, his mother's family served in law enforcement and his father was a pastor. Each day brought new lessons about helping the community, selflessness, and responsibility.
As an Eagle Scout, Daniel lived the motto of "Do a good turn daily." While he seemed destined to follow in one of his parents' footsteps, he always wondered what path would be right for him. At church, one of the congregants was a captain in the fire department, and his stories inspired Daniel. When he neared the end of high school and started to plan his future, he saw three paths ahead: law enforcement, the military…and the fire department.
Yet of these choices, only one seemed to fit just right. "I wanted to give back to the community in times of need. To provide assistance to anyone, whether they were right or wrong."
Before making his decision, Daniel attended school and learned how to perform as an Emergency Medical Technician (EMT). While in college, he met the woman that would become, in his words, "my WAY better half." With his life coming together, only one part was missing: a career.
Daniel Joined the Los Angeles Fire Department in 2017, finishing out his probationary period in 2018. He soon found himself working out of Fire Station 33, supporting "Fire City." This busy station earned its nickname with constant, chaotic calls. Daniel found it to be a deeply satisfying experience. "It's different when the responsibility is on your shoulders. We're held to a high standard. We have to bring our best to the community."
Captain II Robert Barna of Fire Station 33 sees Daniel as "someone who brings people together. He organized a family day [at the station] on his own." On the job, Captain Barna sees Daniel as "operating at the highest level of professionalism."  
Daniel's motto after each call is "What could we have done better?" He constantly seeks to improve, to support, and that drive has led him on his next major path: To become a chaplain within the LAFD. "My faith is my foundation. I wouldn't be the man I am without God's grace." Once he completes his training, Daniel will be called to provide a "ministry of presence" on especially difficult calls. He will lend his strength and support to the men and women of his departmental family.
Captain II Brian Wall, Daniel's former supervisor, was thrilled to learn of his nomination. "[Daniel] is one of the most selfless people you will meet.  He would do anything for anyone, anytime. His strong faith in God has genuinely shaped this family man into a role model for all of us. Having Daniel as one of my team members, firefighters, and friends was a privilege. He can often provide grounding and clarity to all around him. You will always make the right decision after consulting with Daniel."
Daniel felt his nomination was only possible due to the love and support of his wife Desiree. "If I'm the Firefighter of the Month, she is the Wife of the Lifetime!" With 2 boys and a third on the way, Desiree and Daniel celebrate their blessings and look forward to the future.
---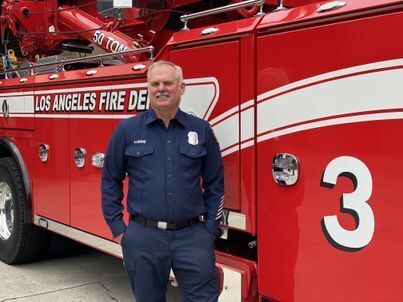 FIREFIGHTER OF THE MONTH 
SPRING 2023 
BRIAN LABRIE, APPARATUS OPERATOR 

FIRE STATION 3, LOS ANGELES 
"It was a childhood dream." Growing up in Montana, Brian LaBrie knew that his path led to the fire department. "My father and grandfather were volunteer firefighters. I was surrounded by this my whole life. It's where I wanted to be." Thirty-three years since joining the department, Brian has made a name as a hard worker, a dedicated colleague, and a disciplined trainer.  
"Apparatus Operator (AO) Brian LaBrie is easily one of the hardest workers in our 3500+ member department." Captain II Shaun Gath works with Brian at Fire Station 3, serving a dense 1.8 square mile area of downtown Los Angeles. Brian's vast skill set is put to work every day on Heavy Rescue 3, a 50-ton wrecker/recovery vehicle which is the only one of its kind on the LAFD." 
Heavy Rescue 3 is an imposing apparatus, towering over the other engines in the motor pool. With incredible lifting capabilities, it is a vital part of rescue operations in Los Angeles. As a leader of the Heavy Rescue team, Brian is responsible for training new members, equipment operation, and safety. "We've had service trucks roll over another car, cement trucks crashing into commercial vehicles." The success of the Heavy Rescue team has inspired Orange County and even Ontario, Canada to launch their own programs.  
Brian is one of the founding members of the LAFD Swift Water Team, a program that is just reaching the thirty-year mark. In coordination with dozens of local and federal organizations—including the Army Corps of Engineers—the Swift Water Team conducts rescue operations around the flood control channels and waterways of the city. Brian worked alongside the original 28 organizations to develop standards and practices that are still used to this day. 
In addition to his work in the department's Urban Search and Rescue and FEMA's California Task Force 1 (CATF-1), Brian was the department's logistics chief during the COVID-19 crisis. He oversaw the establishment and operation of one of the largest testing facilities in the country. Under his guidance, the department tested over 4 million people in just two years.  
Captain Gath considers Brian's work to have been instrumental. "He was responsible for logistics at every department test site, vaccination site, and every COVID-focused operation that the City of Los Angeles undertook. The City of LA and the LAFD would not have been as successful in their COVID response without Brian and his tireless efforts."  
When he's not working or training at Fire Station 3, Brian loves to spend time with his two children: Cameron (24) and Jacob (19). 
Brian is a strong believer in the power of training, and he encourages the younger generation of LAFD firefighters to always be open to learning. "People lose motivation when they stop learning. And teaching is the biggest thing [to keep people motivated.]"  
---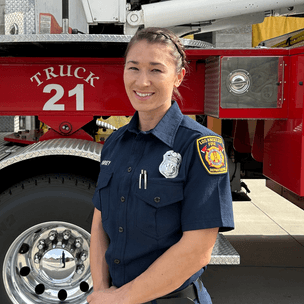 FEBRUARY 2023
FIREFIGHTER OF THE MONTH
SHAUNNA PURKEY, FIREFIGHTER III
FS 21, SOUTH LOS ANGELES
Firefighter Shaunna Purkey is a proud member of the Los Angeles Fire Department (LAFD), serving the residents of South Los Angeles from Fire Station 21. Purkey comes from a long line of firefighters, as her maternal grandfather was a volunteer firefighter. Before joining the LAFD, Purkey was a physical education teacher for elementary students with special needs in Rosamond, CA. In addition to her passion for teaching, she was also a collegiate softball player and a high school softball coach. 
Her journey to become a firefighter began when one of her softball coaches, who was also a captain in the Kern County Fire Department, encouraged her to apply. Purkey visited his fire station and was immediately drawn to the fast-paced environment, team spirit, and comradery. She left her teaching and coaching career behind, but her desire to help young people never faded. 
Purkey joined the LAFD in 2019 and less than a year after completing her rookie probationary period, she was named the Cadet Post Advisor at Fire Station 21. The Cadet Program allows teens and young adults to shadow and train alongside firefighters. This vital community program helps participants develop confidence, teamwork, and life skills to succeed in their future endeavors. It also doubles as an invaluable recruiting pipeline by cultivating future generations of LAFD firefighters. 
Since September 2022, Purkey has held weekly training sessions for her cadre of cadets. Coincidentally, all the members of her group are young ladies from neighboring communities. Purkey blends the LAFD curriculum with lessons from her experience as a teacher and athlete to address real-world challenges and life skills. "Not all of them will pursue a career with the LAFD. But they're learning incredible life skills alongside my fellow crew members and me," shared Purkey. Thanks to this program, no matter what path these girls pursue, they'll have great friends and mentors behind them." 
Firefighter Purkey's dedication to her station and Cadet Post duties illustrate how even new department members can have an immediate and lasting impact. "Although I'm still learning and finding my stride, I'm committed to this cause 100%. My motto is you may see me struggle, but you will never see me quit." 
In her free time, Purkey enjoys a diverse range of hobbies, including learning the piano, hiking, backpacking, and dirt bike riding. She is also a semi-professional motocross racer, competing with the Women's Motocross Association. Her dedication to both her work and her passions truly sets her apart as a role model for all.
---