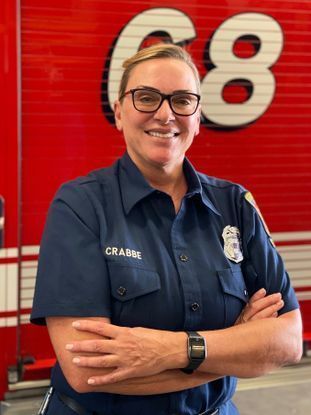 MAY 2022
FIREFIGHTER OF THE MONTH
TANYA CRABBE, FIREFIGHTER/PARAMEDIC
FIRE STATION 68, WEST ADAMS
Firefighter/Paramedic Tanya Crabbe is in her second year of service at Fire Station 68, near Lafayette Square and the West Adams community. Crabbe and her ambulance partner typically respond to more than 15 emergency calls each day.
Crabbe's career with the LAFD is a testament to the benefits of perseverance, dedication, grit, and grace. "I traveled an unconventional road to get here," shared Crabbe. "From a very young age, I knew I wanted to be a firefighter. I just didn't realize I had it in me to pursue my dreams until later in life."
Childhood adversity and a need to help support her household led Crabbe to a construction career. The jobs were tough. It required working early mornings, long hours, and plenty of grueling manual labor under harsh heat or chilling cold.
"I enjoyed the work, but I was totally unfulfilled. I knew I was meant for a more meaningful career." Then, one evening during family dinner, everything changed. A conversation with her older brother (a member of the Ontario Fire Department), and her husband (a member of the Los Angeles Police Department), pushed Crabbe to follow her heart.
Crabbe explained how her brother's encouragement validated her potential. "It sounds silly to say it out loud, but I did not think I had it in me to pursue my dream, for many reasons, but mainly because I did not have the confidence."
Crabbe re-enrolled in school and began working towards her EMT (emergency medical technician) certification. She juggled a full-time career and parenting duties while studying.
After six years of working for a private ambulance contractor, Crabbe worked in the Emergency Room at Los Alamitos Medical Center, hoping this would help improve her odds of becoming a firefighter. While at the hospital, Crabbe became pregnant with her third child.
"Having a third child was a blessing and a major reality check," revealed Crabbe. "I was 35, working full time, still taking classes, and doing my best to raise a family. I was exhausted. I questioned the plausibility of my goals and gave a lot of serious consideration to hanging up my dream." One of her Fire Science instructors, who had become a friend and mentor, revitalized Crabbe's confidence. "She told me I had come too far to give up. She reminded me that I had everything I needed to keep working towards my dream."
As the years rolled past, Tanya's hopes of becoming a firefighter waned. Then, while planning her daughter's high school graduation party, Crabbe received the phone call informing her that she was admitted into the LAFD's Drill Tower Academy. "It took me a solid minute to catch my breath. I thought, 'I'm too old for this now. But then I remembered I'm a stubborn old woman - I can do this."
In September of 2008, at 39 years of age, Tanya Crabbe officially became a member of the LAFD. Ten years later, she became a Paramedic. Her colleagues describe her as a trusted, dedicated teammate with a heart of gold and an unmatched work ethic.
In her spare time, she dedicates herself to volunteering with various youth programs that help girls and young women explore career opportunities in the fire service. Crabbe has served as a volunteer instructor at girl's camps up and down the west coast, from San Diego to Alaska.
"Nothing compares to bringing a little bit of light to people in their times of need. People trust us with the lives of their loved ones, and you can see that trust in their eyes. The patch on our uniform sleeve truly means something, and I would like to think I am helping to validate our department's reputation every time I am on a run."
This past April, Crabbe celebrated another milestone moment when her eldest son, Shane, graduated from the LAFD Drill Tower. "Seeing Shane receive his badge was one of my proudest moments. I hope his LAFD journey brings him as much joy and fulfillment as it has for me," shared Crabbe. "Maybe one day soon, our paths will cross on an incident call, and we will have a chance to do something good for our community together."
---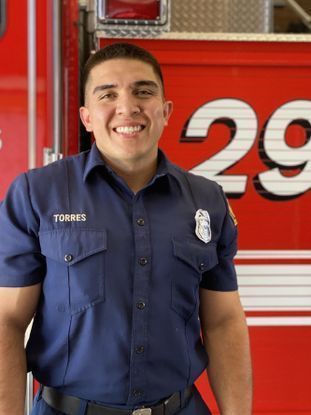 APRIL 2022
FIREFIGHTER OF THE MONTH
DANIEL TORRES, FIREFIGHTER
FIRE STATION 29, KOREATOWN/HANCOCK PARK
Firefighter Daniel Torres is assigned to Fire Station 29, serving the communities of Koreatown, Hancock Park, and Wilshire Park. Ask Torres about what life is like as a member of the LAFD, and he will tell you, "there's no better job in the world for someone like me. When you love what you do, it doesn't really feel like work."
 
The long hours. The grind of little to no sleep. The constant demand of being pulled in different directions – Torres proclaims to love every minute. Those who get to know Torres come to quickly witness that his passion for his career is endearing and genuine. His appearance belies his kind, modest nature.
 
Torres grew up in Maywood, a relatively small unincorporated city within Los Angeles County. When he speaks of his upbringing, he does so with pride, sincerity, and humility. Life and its many blessings, especially familial bonds, are sacred to Torres. His family has been his support system and a major motivating factor in his drive to succeed. Torres lost his father when he was only 10 years old. As a result, his mother was forced to work two jobs to make ends meet for Daniel and his four siblings.
 
"After my dad passed, life completely changed, and we all had to grow up a little faster," expressed Torres. "I remember working as hard as I could in school. I knew I had to push myself to make my dad proud and help my mother as much as possible."
Torres participated in a fire service cadet program in high school that catalyzed his LAFD career. "I remember being in high school and feeling lost in life. I was working just as hard, or harder than everyone else just to get by," expressed Torres. "I was ashamed of how I spoke [English], and I lacked self-confidence."
Torres recalled that a chance encounter with one of the program leaders, Captain Selwyn Lloyd, served as the reality check that sparked a fire within him. "Captain Lloyd pulled me aside and asked me why I joined the cadet program. I told him I wanted to be a firefighter. I wanted to make my family proud and help people," recounted Torres. "I must not have been very convincing because he got in my face, corrected my words, and said repeat after me, 'I will be an L.A. City firefighter!' I recited it over and over until I believed it. I even wrote it on my bedroom wall. It was the first thing I saw when I woke up and the last thing I thought about before going to bed."
According to Torres, Captain Lloyd's mentorship unlocked his self-confidence, taught him how to study, and allowed his training to flourish. After high school, Torres became a reserve firefighter for the City of Vernon and an ambulance driver for the City of Hermosa Beach. All the while, he kept working towards his goal of joining the LAFD.
Torres graduated from the LAFD Drill Tower in March of 2018. It was the happiest day of his life up until that point. "I was just ecstatic. I cried. My mother really cried, but they were happy tears, of course. I just felt like I'd made it. I had become something that would make my dad proud, that would honor his legacy and his work ethic," shared Torres. "And it was all because of four little words – 'I believe in you.' That's what I needed to hear from my mentor as a 16-year-old kid in order to become the person I am today."
Nowadays, Torres tries to plant seeds of confidence wherever he goes. "Whenever we're in the community, or even in my free time if I've got my gear with me, I offer little kids a chance to try on my helmet and coat. I tell them all about how I have the greatest job in the world. Whether they want to be a firefighter or not, I tell them anything is possible when they work hard and follow their dreams."
---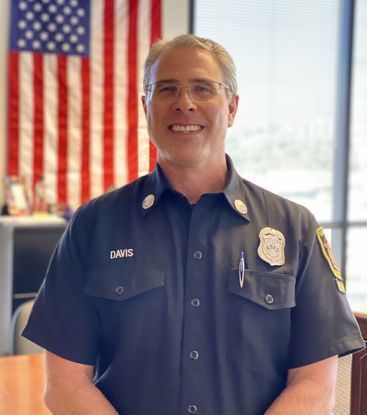 MARCH 2022
FIREFIGHTER OF THE MONTH
KEVIN DAVIS, CAPTAIN I
MEDICAL LIAISON UNIT, DOWNTOWN LOS ANGELES
Captain Kevin Davis is a man on a mission. He is a serial overachiever with a kind, courteous demeanor akin to a favorite elementary school teacher or youth sports coach. His reluctance to discuss his accomplishments and scope of responsibilities underscores the immeasurable value he brings to the Department.
This month marks Captain Davis' two-year special duty anniversary with the LAFD's Medical Liaison Unit (MLU) in Downtown Los Angeles. He reported to work on March 1, 2020, expecting to handle a sizable load of processing on-duty injury and illness-related medical cases. Davis and the three other MLU Captains would process approximately 100 cases involving shoulder, hip, knee, and foot injuries in a typical month. Six days later, everything shifted when the LAFD recorded its first internal positive COVID case.
"Later that week, the Fire Chief summoned [MLU] to a meeting. He wanted to hear our plan for how we were going to handle positive cases amongst our personnel," recounted Davis. "As it turns out, there were no plans for this. Considering how thorough and meticulous the LAFD is, there was nothing comparable to build upon. COVID was way different. No one, no other agency or entity had prepared for a scenario like this."
Immediately after the Chief's meeting, the MLU team set to work developing the plan to test, track, report, and, if needed, support COVID-positive members. "The biggest challenge was creating an effective system for managing all the moving parts. We had to flesh all this out amid surging caseloads - the policies, communications, metrics, treatment options, and even selecting what software platforms and tech applications to use. As it turned out, this was just the beginning."
In November of 2020, the LAFD logged its 300th COVID case. By mid-January of 2021, the total soared to more than 700. "At one point, I was calling more than 50 members per day to notify them that they needed to quarantine," recalled Davis. "From drill tower recruits to deputy chiefs, I was responsible for breaking the tough news to our positive members. For those that needed it, I also helped them manage their medical care." Overall, Davis manually processed more than 2,200 positive COVID cases.
Barely two months into his MLU role, while also leading the COVID tracking and reporting process, Davis was thrust into the aftermath of the Boyd Street explosion, a massive structure fire in which 12 members were injured, 11 of them with devastating burns. Davis was tapped to manage the medical cases for the 11 burned members. He would drive to the Grossman Burn Center each week, bringing pizza to the members and their families as they worked through their recovery. "Before the Boyd St. incident, I had never met any of the injured members," shared Davis. "But after two years of guiding them through surgeries, skin grafts, physical therapy, counseling, and their worker's compensation claims, I have become best friends with some of these members. If there were anything close to a silver lining in this tragedy, I would say it's the friendships I formed with those guys."
In addition to managing his expected medical caseload, running the internal COIVD tracking program, and assisting the injured Boyd Street members in their recovery, Davis also had the rigorous task of tracking all of the LAFD's COVID-positive patient transports. Anytime the LAFD transported a potential covid patient to a hospital, the case was categorized as a possible exposure Per Cal OSHA (California's Division of Occupational Safety and Health), and he was required to notify the respective members that
Being the overachiever he is, Davis also returned to school to pursue his bachelor's degree while juggling the many facets of his job. In just under ten months, Davis completed 17 college courses to earn his degree in Business Administration. "I guess it sounds like a lot when you look back at everything over the past few years," said Davis as he chuckled. "But you can accomplish anything if you put your mind to it. You just can't do it alone. One person may get the credit, but everything is done as a team. I have an outstanding team at [MLU] and a great family at home. That's what makes it possible."
March is full of milestones for Davis, who also marks his 20-year anniversary with the LAFD this spring. According to Davis, "it's been a wild ride, and I am grateful for every day of it."
---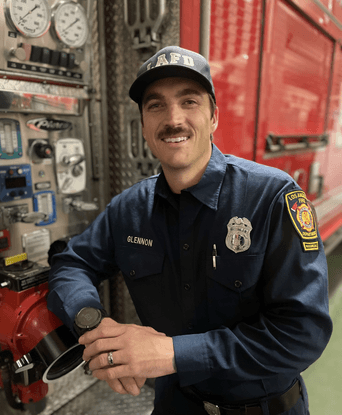 FEBRUARY 2022
FIREFIGHTER OF THE MONTH
TREY GLENNON, ENGINEER
FIRE STATION 63, VENICE
How do LAFD engineers expertly maneuver through L.A. traffic? The blaring sirens can only help so much. The process requires skill, expert-level focus, and a solid crew of vigilant passengers. Engineers dedicate countless hours studying, training, and simulating the complexities of navigating Los Angeles' congested mishmash of urban thoroughfares, residential streets, construction closures, and major highways.
Sitting behind the wheel of an LAFD fire engine is a privilege that comes with great responsibility. Engineers are tasked with safely transporting their teammates to an incident site. As they cautiously weave through traffic, their heads are constantly on a swivel for pedestrians, cyclists, and unaware drivers. "Sometimes, it can be a bit nerve-wracking trying to get to the scene of an accident without getting into an accident," expressed Engineer Trey Glennon.
Firefighters train to handle a seemingly endless variety of life-threatening incidents and scenarios. According to Glennon, expectations of LAFD members are starkly higher than in some other departments. "As soon as you step on that truck or engine, you have to know your role backward and forwards. But you also have to know the duties of those next to you – kind of like a well-rehearsed sports play," explained Glennon.
Glennon was promoted to Engineer nearly five years ago. His primary role is to drive the fire engine, establish a water supply at the scene of a fire, and provide support to his team members during non-fire-related emergencies. He is also responsible for the preventative maintenance of the engine, its mechanical components, tools, and equipment.
"I was a firefighter and paramedic for close to 10 years," shared Glennon. "It was incredibly fulfilling, but nothing quite like the excitement, pressure, and thrill of being an engineer. Personally, it completely shifted my perspective on what it means to be part of the LAFD. It's kind of like being the locker room leader for your team. You help set the tone and mindset for your teammates."
Glennon will celebrate his 15-year anniversary with the LAFD this March. His journey has been wild, rewarding, and unpredictable, much like the types of incidents he responds to in his role at Fire Station 63 in Venice.
Engineer Glennon is an integral member of the working group mentoring future generations of engineers. On his days off, he can often be found at the In-Service Training Division (ISTS), volunteering to refresh and revise the training materials that help LAFD personnel develop safe driving habits. In fact, Glennon is working on the finishing touches of a year-long project producing a driving safety video for the entire Department. The video's emphasis is on preventing accidents and civilian casualties.
With any remaining spare time, Glennon is helping develop a Battalion Driver Instructor program, which everyone in the Department will undergo. He is also part of the ETP (employee testing program) that assists members in obtaining and maintaining their commercial driver's license.
During his training to become an engineer, Glennon developed an appreciation for the effort others invested in helping him succeed. "I had some great mentors, my captains and the engineers at Station 13 and 33, and the practical instructors that helped prep me for the engineer's exam," shared Glennon. "I knew then and there that I wanted to do the same for others coming up the ranks. Committing to your teammates is the only way we all get better."
Glennon is married to Christina, a decorated Army veteran who now works as an executive for an iconic, California-based clothing company (revered for their denim goods). He and his wife are parents to two young boys. The Glennon family loves camping, bike rides, and beach trips.
On top of being a father, husband, LAFD engineer, a (nearly) full-time volunteer with the ISTS Division, and a Driving Program practical instructor, Glennon also carves out time to volunteer with the Department's Peer Support Program to anonymously aid colleagues in coping with PTSD, depression, addiction, family struggles, and other challenging life experiences.
"Several years back, I went through a rough patch that left me feeling like I was sinking, spiraling, struggling to keep it together," revealed Glennon. 'The [peer support] program helped me press the reset button, helped me see there was no shame in seeking help. If I can possibly do the same for a colleague, I have an obligation to help. That's why we're here, right? That's why we joined the LAFD."
---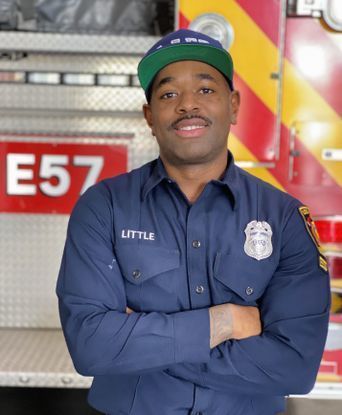 JANUARY 2022
FIREFIGHTER OF THE MONTH
Darrell Little, Firefighter/Paramedic
FIRE STATION 57, SOUTH LOS ANGELES
Last month, as Firefighter/Paramedic Darrell Little and colleagues rode down Florence Avenue, a driver pulled up next to their engine and started vigorously honking. Little peered out the window and saw his sister smiling as she waved excitedly. Interactions like this are uniquely frequent for Little, who serves the community where he was raised.  
Little is assigned to Fire Station 57 in South Los Angeles, mere blocks from his current residence and a few streets away from his childhood home. Surprisingly, he is one of only a handful of active LAFD members who live and work in the neighborhood where they grew up.  
Little's current assignment was not coincidental. He requested the opportunity to work here shortly after completing paramedic school three and a half years ago. "Practically every day, I see familiar faces when we're running calls. Plus, my commute is a piece of cake," said Little with a lively grin.   
The community served by Station 57 is one of the LAFD's busiest. In 2021, Station 57 responded to more than 12,000 emergency calls. It is also an area plagued by 9-1-1 calls related to violence. Little and his station mates confront a daily reality that tests their stamina, skills, and fortitude.   
"It takes a certain type of character to want to work in this area willingly. We see a significant number of incidents that are really disheartening," explained Little. "I've been on calls where it's people I know lost to gun violence or an overdose. It's not easy, not by a long shot. But my roots are here. Many of the people I care about live in these neighborhoods. That's why I asked to come here, so I can make a difference in the lives of the people I love."  
Little was a junior in high school when he decided on his dream job. As a multi-sport athlete, he was interested in pursuing a career that allowed him to stay physically active while helping others. "One afternoon, I dropped by Fire Station 94 to ask a few questions about becoming a firefighter. They encouraged me to join the Cadet program, and the rest is history," explained Little.  
Little credits his mother (a single parent of four), Firefighter Paul Wingate, and Firefighter/Paramedic Dexter McDaniels (retired) for supporting him on his journey to join the LAFD. All were instrumental in helping Little achieve his dream. "Firefighter Wingate showed me the meaning of hard work. I was an athlete at the time, and working with him at the wildland academy was the first time I ever threw up from physical exertion. It was a real eye-opener, but I fell in love with the challenge."  
"Firefighter/Paramedic McDaniels mentored me throughout my interview process. I was a nervous wreck leading up to my interview, but McDaniels was determined to see me succeed. He practiced with me twice a week for hours on end. As we neared my interview date, he once spent 10 hours reviewing material with me, committed to seeing me score 100%."    
Thanks to a dedicated support system and an unwavering work ethic, Little joined the LAFD in March 2017. "That was the moment I knew I'd made it, that I'd made something of myself and made my family proud."  
Although he is the first in his family to become a firefighter, Little is confident he will not be the last. "I have ten nieces and nephews nearby. I see them every week, and it's my job to be a role model for them, just like the guys at Fire Station 94 were for me," added Little. "The kids are starting to ask a lot of the same questions that I did when my interest peaked, so who knows. Maybe one day soon, I'll get to guide them through the process of becoming a firefighter."  
Firefighter/Paramedic Darrell Little was selected as Firefighter of the Month due to his dedication and exemplary service to his community. "Firefighter/Paramedic Little exhibits outstanding professionalism and a genuine passion for improving the lives of residents in our service area," expressed Captain Robert Hawkins of Station 57. "He treats every patient with the care and respect of a family member. He represents best of what it means to be part of the Los Angeles City Fire Department." 
---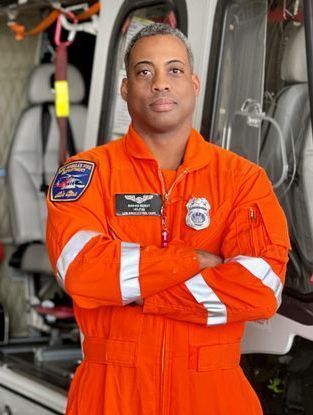 DECEMBER 2021
FIREFIGHTER OF THE MONTH
RASHAD BENOIT, FIREFIGHTER III
FIRE STATION 90, VAN NUYS
Rashad Benoit is a Firefighter III assigned to Fire Station 90 in Van Nuys, one of the busiest stations in the San Fernando Valley. In addition to shouldering his conventional firefighting duties, Benoit also serves as a Level I member of LAFD's Helitac crew.
As a Helitac member, Benoit assists with incidents all across the city. These members undergo specialized training to assist with all types of emergencies involving LAFD's helicopters.
Incidents vary from stranded hiker rescues, air ambulance transports of critically ill or injured patients, cliff rescues, high-rise rescues, large animal rescues, brush fires, and all manner of emergencies involving LAFD Air Operations. 
Benoit has served in his current role for more than a decade. In his early years as a Helitac member, he was a Level II Helitac who primarily operated on the ground. Now he mainly serves as crew chief, operating the hoist, and working from within the helicopter to guide pilots and coordinate the actions of those under the aircraft.
 "This has to be one of the most exciting roles in our Department. It never gets old," shared Benoit. "Plus, we're lucky in the sense that we get to see more happy endings than our colleagues at most fire stations. Lost hikers and stranded climbers tend to recover rather quickly in comparison to the more severe emergencies we encounter riding on a fire engine."  
 One of Benoit's primary responsibilities is establishing and managing helispots for brush fire incidents. A helispot is a designated safe area for the LAFD's helicopters to touch down, refuel, refill their water-dropping tanks, and pick up supplies or personnel.  
 "We have several dozen predetermined sites throughout the city. On sizable brush fires, a helicopter typically flies us in on their way to conduct the air attack. We'll get the helispot up and running within five minutes. After that, we're ready to service [LAFD] aircraft and helicopters from partner fire agencies as long as needed."  
 As a senior member of the Helitac team, Benoit is responsible for the training and development of newer members and keeping his crew safe. Benoit and his helispot crew have been airlifted to safer ground on more than one occasion when wind-driven wildfires have doubled back towards the helispot. "Although we're typically a quarter to half a mile away from the burn areas, we have to keep a watchful eye on a fire's progression and move our resources accordingly," shared Benoit. "You don't want to risk being in the fire's path with 1,000 gallons of aircraft fuel nearby."  
 Benoit grew up in a fire service family. His father served with the Los Angeles County Fire Department. As a boy, he recalled being drawn to a firefighting career but also dreamt of becoming a pilot. In high school, Benoit joined the local explorer program and never looked back.  
 Benoit took a major leap towards achieving his dream when he earned his commercial helicopter pilot's license six years ago. "My job combines two of the things I love most - flying and helping others," shared Benoit. "Soon, I hope to take the next step in my LAFD career and become one of our pilots."
"Firefighter Rashad Benoit is an overachiever with an outstanding work ethic. His stand-up character, positive attitude, and strong leadership qualities make him an invaluable member of the Station 90 family and Helitac crew," expressed Captain II Brett Willis, Benoit's supervisor.
---