First Responders and Mental Health
First responders face higher rates of post-traumatic stress disorder (PTSD), depression, and anxiety issues related to the volume and severity of tragic incidents they respond to on a daily basis. Research has begun to reveal the devastating impact these types of issues can have on first responders over the course of their career.
To counteract this alarming trend, the Los Angeles Fire Department (LAFD) is now using a specially trained dog to help comfort firefighters in times of crisis and make coping with trauma a bit easier.
The LAFD Canine Therapy Program launched in December of 2020, as part of the Department's Behavioral Health Division. The purpose of the program is to help alleviate psychological and emotional trauma impacting our firefighters.
The program currently has one canine + handler duo to assist all 3,500 members of the Department. The LAFD Foundation is working closely with the Department's Behavioral Health Division to fast-track acquiring a second therapy dog. Funds raised will also help to cover training and medical costs related to the program.
Special thanks to Wallis Annenberg PetSpace for playing a vital role in launching this exciting new program. 
---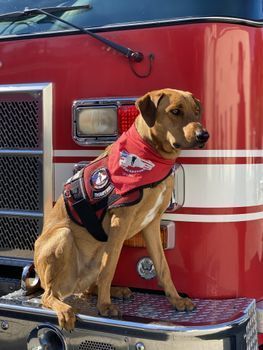 Meet the LAFD's First Therapy Dog, Teddy
In December 2020, the LAFD received its first therapy dog, Teddy, donated by the Patriotic Dog Service Foundation. Each therapy dog is paired with a LAFD handler who undergoes specialized training with their canine. Teddy and his handler, Firefighter Susan Jensen, are dispatched to large incidents and fire stations to help combat signs of depression, anxiety and post-traumatic stress. 

 
---
WAYS TO SUPPORT
DONATE TODAY - The LAFD Foundation is seeking funds to grow the LAFD's Canine Therapy Program with additional dogs to help more LAFD members. Donations will assist with costs including veterinary care, food, equipment, and health and liability insurance.
 
LAFD HOWLING HEROES CANINE CONTEST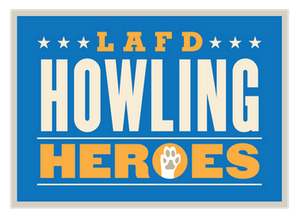 HOWLING HEROES CONTEST - To support the canine therapy program, the LAFD Foundation is launching the first-ever Howling Heroes contest to find the LAFD's official K-9 mascot. This exciting contest is open to the public and the winner will be announced live on KTLA. To nominate your four-legged friend, you will need a photo and a short note about what makes your dog a hero. Submissions close Thursday, April 8th.
---
About Canine Therapy
In animal-assisted crisis response, dogs are used directly after a traumatic event to reduce stress and anxiety. Therapy dogs are specially trained to help individuals with heightened cortisol levels feel immediate relief from their problems or anxieties — at least temporarily. Research by UCLA Health confirmed that interaction with therapy dogs provides both mental and physical health benefits, including:
The release of hormones that play a part in elevating moods
Lower anxiety and reduced loneliness
Mental stimulation
Lower blood pressure and improved cardiovascular health
Slower breathing
Fire departments across the nation are implementing programs comparable to the LAFD's Canine Therapy Program based on anecdotal evidence suggesting that this type of therapeutic approach is having positive effects with the firefighters.
---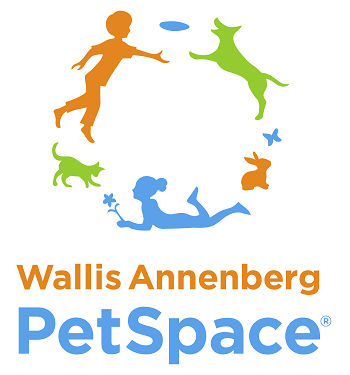 About Wallis Annenberg PetSpace:
Wallis Annenberg PetSpace is a unique community space featuring an interactive place for pet adoptions, an education center, and an academic leadership institute. The mission of Annenberg PetSpace is to strengthen and promote the human-animal bond. 
Wallis Annenberg PetSpace is a proud partner of the LAFD Foundation in support of the LAFD's canine therapy program. As an organization committed to strengthening and celebrating the human-animal connection, they recognize the significant impact that can be made through these types of therapy initiatives. 
Wallis Annenberg PetSpace recognizes the important work and incredible physical and mental challenges that our first responders and firefighters are tasked with on a daily basis. This is why they are thrilled to support a more widespread canine therapy program to help additional members benefit from the healing presence of these animals.
Click here to learn more about Annenberg PetSpace, and Wallis Annenberg's philanthropic work improving the wellbeing of people and communities in Los Angeles. You can also read more about the academic research the Wallis Annenberg PetSpace Leadership Institute fellows are publishing in the international peer-reviewed journal, Frontiers in Veterinary Science. The group is collaborating on a collection of 14 articles entitled "Our Canine Connection: The Benefits, History and Future of Human-Dog Interactions."