LAFD FOUNDATION MISSION
The Los Angeles Fire Department (LAFD) Foundation provides vital equipment and funds critical programs to help the LAFD save lives and protect communities.
WHY THE FOUNDATION EXISTS
Approximately 97% of the city's fire budget is allocated towards personnel costs, leaving just 3% to cover all other life-safety costs. The Los Angeles Fire Department (LAFD) Foundation is the official nonprofit arm of the Los Angeles City Fire Department. The Foundation was established in 2010 to bridge critical funding gaps for essential tools, equipment, and programs. The LAFD Foundation channels donations from private, corporate, and community partners into tangible resources to help firefighters protect the people of Los Angeles.
In recent years, the LAFD Foundation has assisted the Department by providing specialized equipment such as a wildland bulldozer, night-vision flight goggles, emergency fire shelters, thermal imaging cameras, drones, and swift-water rescue boats.
The LAFD Foundation also administers the Adopt-A-Fire-Station program, which improves living and working conditions in all 106 fire stations, and provides funding for numerous youth outreach and education programs.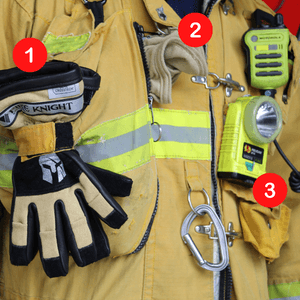 GEAR FOR EVERY FIREFIGHTER
The LAFD Foundation assists every LAFD firefighter in some way by providing crucial pieces of equipment that help keep them safe in the line of duty. Recent examples include:
  (1) new structure fire safety gloves
  (2) carcinogen-blocking, flame-resistant hoods
  (3) heavy-duty rescue flashlights
The Los Angeles Fire Department Foundation is a registered 501(c)(3) nonprofit. Federal Tax ID: 27-2007326
---

THE LOS ANGELES FIRE DEPARTMENT
The Los Angeles Fire Department (LAFD) is a full-spectrum life safety agency responsible for covering the second-largest metropolitan area in the nation, with over 3,500 firefighters embedded in 106 stations throughout the city. The LAFD responds to an emergency call every 35 seconds, making it one of the busiest in the nation.
The LAFD serves one of the most geographically diverse jurisdictions in the world. Its 471 square mile service area includes: 
Los Angeles International Airport – facilitates nearly 90 million passengers, making it the world's third busiest and the United States' second busiest airport 
Port of Los Angeles - The busiest port in the U.S. by container volume, the 19th-busiest container port in the world 
Whiteman Airport (San Fernando Valley) - facilitates approximately 80,000 general aviation takeoffs and landings each year 
Major transportation arteries 
Beaches 
Wildland communities + brush-filled canyons 
Urban communities 
Commercial districts 
Residential communities 
Entertainment + sporting venues 
INTERESTING FACTS
The LAFD responds to approximately 1,500 emergency calls per day.
The LAFD has over 106 neighborhood fire stations across 471-square miles.
At any given time, there are over 1,000 LAFD firefighters and paramedics on duty.
Despite the breadth and scope of everything the Department covers, the LAFD often has needs that the city's budget cannot fulfill. This is why the LAFD Foundation was formed in 2010.