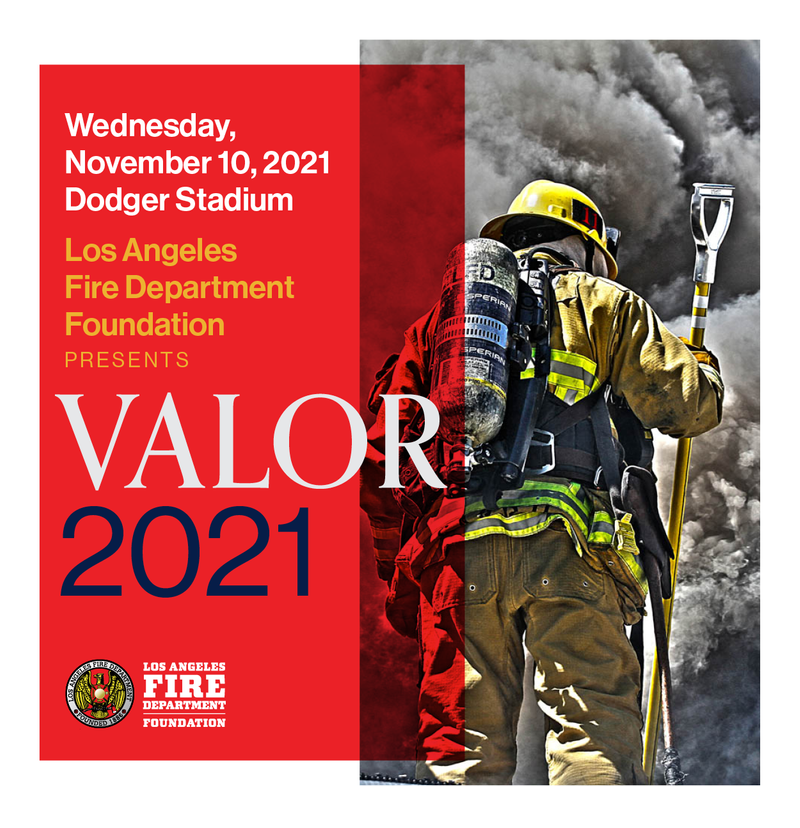 VALOR is the Los Angeles Fire Department's annual awards ceremony honoring exemplary LAFD members for outstanding service above and beyond the call of duty. Please mark your calendars for this exciting (socially distanced) celebration of their life-saving actions. Ticket packages and individual ticket sales are available by clicking the button below.
WHEN: Wednesday, November 10, 2021
WHERE: Dodgers Stadium, 1000 Vin Scully Ave, Los Angeles, CA 90012
TIME: Doors open at 4:00 p.m.    Program begins at 5:30 p.m.
ATTENTION LAFD PERSONNEL:
Discounted tickets are available to LAFD members and their families. Please email Tara Gurlides to inquire about pricing and availability.
Using your "lacity.org" email address, send an email to

tara@supportlafd.org

 with the subject line "Discounted VALOR Ticket Inquiry."

In the body of your email, please include your contact information and the desired number of event tickets.
---
This event will be held in accordance with Los Angeles County Public Health COVID safety protocols, including the required use of face masks and social distancing.
---
2021 HONOREES
MEDAL OF VALOR
Firefighter III Aaron King
MEDAL OF MERIT
Captain II Victor Aguirre
Apparatus Operator Ian Soriano
LETTER OF SPECIAL COMMENDATION
Firefighter/Paramedic Jose Carreon
Firefighter III Carlos Cativo
Firefighter III Jacob Gonzalez
Apparatus Operator Garrett Lew
Emergency Incident Technician Marcus Meza
Firefighter III Ian Moore
Firefighter/Paramedic John Norton
Firefighter/Paramedic Chadwick Qualley
Captain I Lawrence Salas
Firefighter/Paramedic Sergio Saenz
Firefighter III Daniel Stalie
Firefighter II David Stigger
DIVISION OF THE YEAR
Metropolitan Fire Communications
CORPORATE IMPACT AWARD
COMMUNITY IMPACT AWARD
---
FUNDS RAISED: All proceed raised through corporate sponsorship, ticket sales, and the silent auction will benefit the Los Angeles Fire Department Foundation in purchasing life-saving tools and equipment for our LAFD firefighters.
This year's anticipated funding priorities include:
Flight helmets and night vision goggles for our LAFD helicopter pilots to conduct water drops and rescue missions in low-visibility conditions. 

Strike Team Go Kits with communications equipment, weather monitoring instruments, and supplies for lengthy overnight deployments in rugged terrain. 

Chainsaws and safety gear for brush the clearance crews cutting defensive fire lines to protect neighborhoods prone to brush fires. 
---
Sponsorship opportunities are still available.
Please click below for more information, or contact Tara Gurlides for details. (310) 552-4139 | Tara@supportlafd.org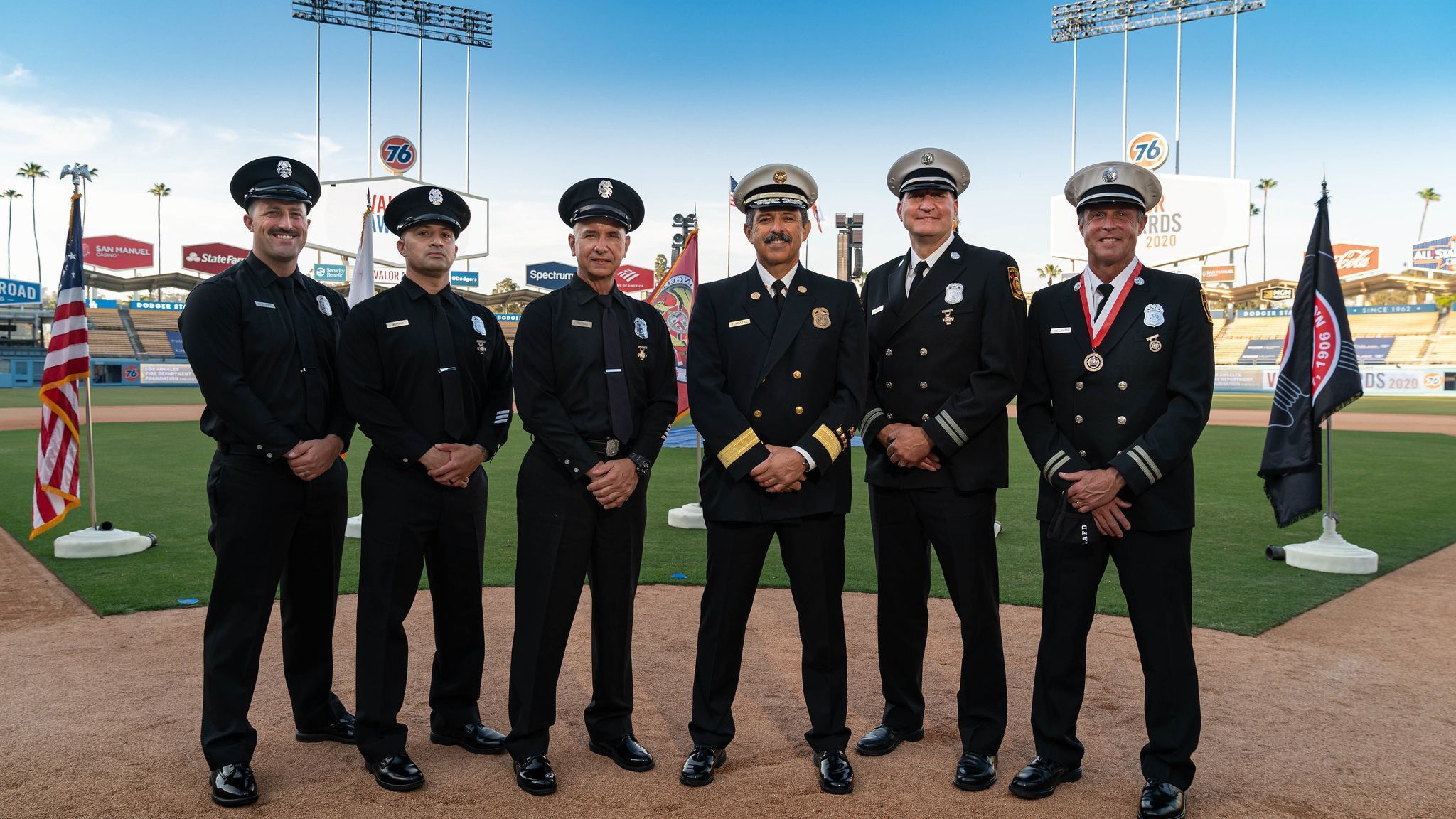 Los Angeles City Fire Chief Ralph Terrazas and the 2020 VALOR honorees at Dodger Stadium.