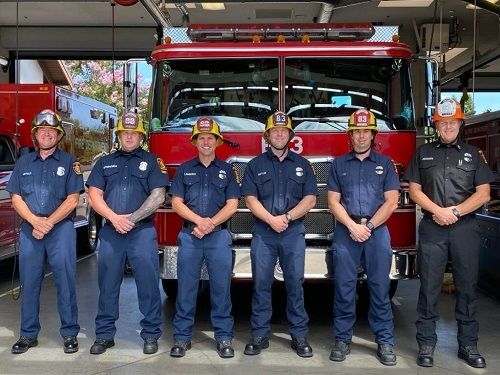 STATION 83
4960 Balboa Boulevard
Los Angeles, CA 91316
Report all emergencies to 9-1-1
(818) 756-8683
Since its founding in 1942, the Los Angeles City Fire Department Station 83 has been faithfully serving its community. Also known as Encino Fire Department, and located in the heart of Encino, Station 83 is the second home to 18 firefighters on any given shift. From traffic collisions to swift water rescues, from stranded hikers to heart attacks, these firefighters handle an endless variety of urban, industrial and wildland incidents.
Despite the breadth and scope of the department's efforts, our firefighters often have needs that the city's budget does not cover.
We have raised
$19,711.08
of our
$25,000.00
goal.
Did you know?
Approximately 97% of the city's budget for the LAFD is dedicated to salaries and benefits. This leaves just 3% to cover essential equipment, new technology, and training resources needed to keep our firefighters safe and effective.
Everyday essentials like washers, dryers, ice machines, coffee makers, kitchen faucets, refrigerators, and fitness equipment see heavy wear and tear. Replacements are not covered in the city's budget. The city simply cannot afford to replace them.
When one of these everyday essentials breaks down, repairs can take months or even years to complete.
The firefighters are responsible for their own bedding, toiletries, meals, furniture, training equipment etc. while working at the fire station.
In many cases, the station relies on donations to replace dated equipment with newer, better solutions. In some circumstances, the members themselves opt to pay for repairs, maintenance, and new equipment. Recently, the members of Station 83 wanted to trim the trees around the property. With zero room in the city budget for tree trimmers, the members pooled $1,000 of their own money for the service.
Please join in the effort to help support our local heroes, the firefighters of Encino Station 83. With the community's assistance we can provide them with much needed funds to fulfill even some of their everyday needs.
A few examples of their ongoing needs:
Commercial Refrigerator
Commercial Ice Maker – this is used for the RAT RIG, a rehab and air tender that goes all over the city for major emergencies to fill up the air bottles for the firefighters' breathing apparatus.
Commercial Rowing Machine
Landscaping of Front of Fire Station to be drought tolerant
Help us reach our goals and support Fire Station 83. All members of Fire Station 83 proudly serve your community and greatly appreciate and all donations!