2022-2023 FUNDING HIGHLIGHTS
Over the years, the support of our donors has enabled the Los Angeles Fire Department (LAFD) Foundation to significantly provide the LAFD with life-saving equipment and programs.
Despite the devastating wildfire seasons, COVID-19 pandemic, and civil unrest that plagued Los Angeles over the past five years, the LAFD Foundation managed to provide more than $19 million of equipment and programs to the LAFD.
This page showcases the impact donations have had on the Department. As you will see, every donation makes a difference. The Foundation's success would not have been possible without the generous outpouring of donors who believe in the work that we do. The LAFD Foundation is grateful for your support.
---
FIRE 7 – Newest Addition to the LAFD's Air Operations Fleet
With its year-end donation push, the LAFD Foundation was able to complete its fundraising efforts to purchase the Bell 505 helicopter for the LAFD. In February 2023, the newly named FIRE 7, joined the LAFD's Air Operations fleet which includes six other aircraft.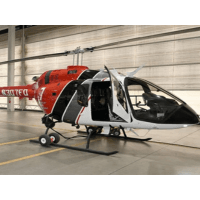 FIRE 7, is a versatile, light-duty platform configured to the LAFD's stringent performance specifications. The LAFD's 505 model is outfitted with specialized equipment including a searchlight, night vision capability, rescue hoist, and a 180-gallon water tank, making it multi-mission capable.  The aircraft is also equipped with upgraded safety features, including energy crash attenuating seats with 4-point harnesses, rupture-resistant fuel tanks, and a cutting-edge protection system to mitigate the risks of wire strikes while flying at low altitudes.
After a few weeks of training and familiarization, FIRE 7, was put into action to assist swift water rescue operations that occurred because of late-winter flooding. Once fire season approaches, FIRE 7 will serve its primary function of providing helicopter command and control when more than two aircraft are in the air. The helicopter will also assist with aerial recon and mapping, and wildfire suppression. Lastly, the new helicopter will also serve as a training aircraft for all of the LAFD flight instructors and new LAFD pilots.
"FIRE 7 has improved capabilities, including a higher capacity water tank and more modern instruments. [As a training plaBorm,] It will help familiarize new pilots with a single engine craF before they move to flying dual engines."
Captain Brandon Ruedy, Air Opera3ons Unit, Fire Station 114
---
Adopt-A-Fire-Station Program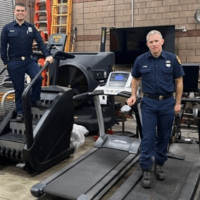 As one of the most important programs impacting the LAFD members on a daily basis, the Adopt-A-Fire-Station (AAFS) program strives to maintain the equipment and appliances housed at each of the 106 LAFD fire stations. The fire stations are "home" for the members and Equipment and appliances are used around the clock. The frequent use of these items creates a shorter lifespan and greater repair incidents for these essential items. Before the AAFS program existed, LAFD members paid for replacement and repair costs themselves.
The AAFS program offers individuals and neighborhoods a way to give back to their local station and say thank you for the selfless service firefighters deliver each day. Once the LAFD Foundation receives funding, the respective station is contacted, and the needed items are purchased and delivered to the stations.
Over the past year, the LAFD Foundation fulfilled a record-breaking 400 requests, resulting in 82% of the LAFD fire stations receiving pieces of equipment through the program. This exponential growth – over $1 million spent last year – illustrates the growing needs of the fire stations, particularly in underserved communities.
"We work around the clock. The new refrigerator has been instrumental in improving our morale, making our meals, and everything like that. Our old fridges, we used to need two or three side by side just to add up to this one."
Firefighter Grabarewitz, Fire Station 14
---
Firefighter Safety & Health
As first responders, firefighters experience some of the most significant types of occupational stress and health issues compared to other professions. Recent studies are beginning to show the physical and mental tolls that this career has on firefighters and their families. Over the course of time, the physicality of their career often leads to numerous musculoskeletal injuries that often require surgery or result in long-term pain and discomfort. The data on the behavioral impact is equally daunting. An estimated 1 in 5 firefighters will suffer from PTSD during their career and more firefighters are dying by suicide than in the line of duty.
As a result of the contributions received, the LAFD Foundation funded $175,394 of equipment and programs to directly aid firefighters with immediate and long-term needs addressing both physical and mental health.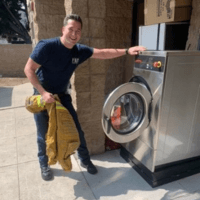 • Of the total amount funded, $81,140 directly addressed the LAFD's behavioral health needs through counseling, group support events, and specialized training.
• The LAFD also purchased six extractors for $69,254. These specialized commercial washing machines remove carcinogens and other harmful particulates from firefighters' personal protective gear, helping to minimize toxin exposure.
• Approximately $25,000 was used to support the Department's Canine Therapy Program which currently has two certified therapy dogs/handlers who are deployed to critical incidents to help firefighters manage the heavy stress and emotions they experience when responding to traumatic events.
"Willow is not just a companion, but a beacon of comfort and healing to all our LAFD members. Together, we navigate the storms of trauma, offering solace to those in need. In her gentle gaze and wagging tail, Willow carries the power to restore resilience."
Battalion Chief Robert Takeshita, LAFD Peer Support Counselor & Therapy Dog Handler
---
Emergency Medical Services
The LAFD serves as the largest provider of acute, unscheduled medical care, responding to more than 500,000 calls annually. This translates to an average of 1,500 emergency medical calls daily, with over 600 patients requiring transport to the hospital. The goal of the LAFD is to respond to every patient as quickly and safely as possible while providing the best treatment possible.
Over the past year, the LAFD Foundation purchased $103,146 of medical devices that provided the LAFD's fast response units with enhanced diagnostic abilities as well as equipment to increase cardiac patient survival rates.
• Four point-of-care ultrasound devices for LAFD's advanced response specialty units are being used as evaluation tools to provide real-time medical imaging. These portable ultrasound devices assist trained medical professionals with formulating a diagnosis based on symptoms and image findings.
• The LUCAS Device is a highly advanced yet easy-to-use mechanical chest compression device that helps paramedics deliver hands-free consistent chest compressions to patients in the field or in the back of the ambulance while en route to the hospital. Studies have shown that the use of consistent cardiac care provided by mechanical compressions can increase the survival rate for cardiac patients. In the short time these devices have been used by the LAFD, they have demonstrated positive results. The LAFD Foundation purchased four LUCAS Devices this year and will continue to raise funds to equip LAFD's ambulances with this life-saving technology.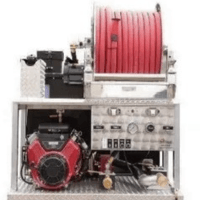 Brush Patrol Skid Units
In an effort to increase the LAFD's capabilities, the Wildland Fuel Management Division created three brush patrol skid units last year. This involved converting a standard department pickup truck into a versatile firefighting resource. These units serve a multipurpose function including helping with brush clearance, assisting with defending high-risk areas, and extinguishing hot spots during fire season.
Generous contributions of $47,961 enabled the LAFD Foundation to fund three skid units, which consist of a motor, high- powered water pump, 200-gallon reservoir, and 200 feet of hose - all affixed to an aluminum frame. Just a two-member crew can operate the skid unit-equipped pickups. The units have proven to be extremely efficient for the LAFD and the Foundation will be seeking funding for additional units.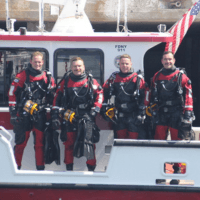 Dive Team Equipment
As one of the lesser-known specialty units within the LAFD, the Department's Dive Team provides primary emergency response support to the Port of Los Angeles, the largest seaport in the U.S. This translates to responding to calls from 25 cargo terminals, 82 container cranes, eight container terminals, and over 40 miles of waterfront. The Department manages this responsibility using a small fleet of specialized boats and firefighting personnel cross-trained in maritime, hazardous materials, and underwater search and rescue operations.
The LAFD Foundation purchased over $40,000 for dive suits, backplates, wings, and communications equipment for this specialty unit. Funding was also provided to help create a training area for the divers to use. In addition to refitting the current team, new equipment was also provided to three new divers.
"Our gear was old and needed constant repair. In addition to the new equipment, we now have enough equipment to bring three new divers onto the team."
Firefighter and Boat Operator Teter, Fire Station 49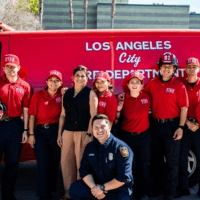 Youth Programs
The LAFD Foundation funds vital youth recruitment and outreach programs administered by the LAFD. These programs offer teens and young adults the opportunity to explore careers in the fire service while they develop skills in leadership, teamwork, and overall confidence.
Funding from the LAFD Foundation supports the Department's long-term recruitment efforts that reflect the diverse communities served by the LAFD. Growing numbers of newly hired LAFD recruits and drill tower participants credit the youth programs as the life-changing catalyst that propelled them toward a career with the LAFD. Overall, these efforts impacted nearly 1,000 students over the past fiscal year.
"My son Ashton participated in the Metro Academy Program. Since his participation, I have seen an increase in the following with him:
• Ability to look the speaker in the eye when he is having a conversation.
• A burning desire to participate in outside-of-the-home activities.
• A willingness to work toward his future goals.
• A more respectful manner in which he conducts himself.
The program has dedicated people that inspire the children to work to their highest standards. The students are all very excited when they graduate."
Janet Searcy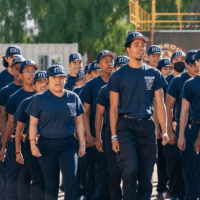 The following Youth Programs were funded during the FY2022-2023 cycle:
• Cadet Program | 176 Participants. Designed for 14 to 20-year-old individuals who are serious about pursuing a career in the fire service. The program resumed in 2022 after a two-year hiatus due to COVID.
• Youth FIRE Program | 252 Participants. This curriculum offers four levels of introductory firefighting and EMS activities, providing high school youth aged 14-18 with basic technical competencies in the fire service and simultaneously fostering the development of their life skills.
• High School Magnet Program | 456 Participants. Prepares Los Angeles Unified School District students for entry-level careers and post-secondary education in the field of public service.
• Camp SPARK | 94 Participants. Two-day fire camp for high school girls ages 14-18 aiming to instill confidence, leadership, and awareness of firefighting as a career choice.
---

For more information about the items or programs highlighted above, please contact:
Tara Gurlides, Development Director
(310) 552-4139 | Tara@supportLAFD.org