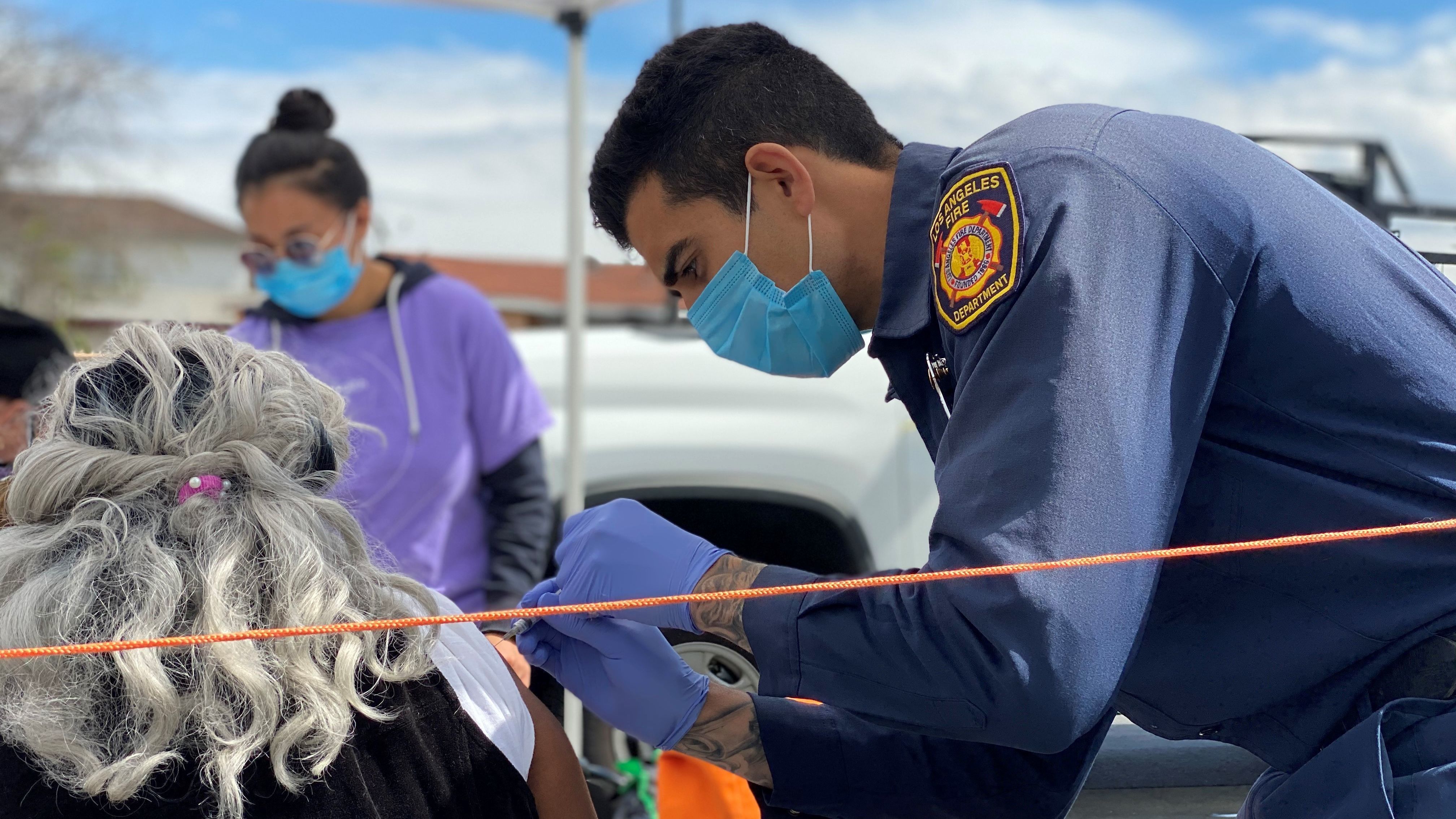 UPDATE - 3/19/21
L.A.'s Philanthropic and Business Community Helps Fund New Vaccination Sites and Expand LAFD's Mobile Vaccination Program 
 Generous contributions from corporate and philanthropic leaders are helping to close gaps in COVID vaccine accessibility for Los Angeles' underserved communities. The Los Angeles Fire Department Foundation has received more than $840,000 to aid the LAFD in expanding the reach and impact of its vaccination efforts. This funding will enable the LAFD to establish three new vaccination sites and increase resources for the Department's mobile vaccination units. 
Special thanks to the Annenberg Foundation, Bank of America, Caruso, the Conrad N. Hilton Foundation, Paramount Pictures, and the Wasserman Foundation for their generous donations. Their contributions will help cover staffing, supplies, and operational costs to add three new community sites and two more mobile units, bringing the total to ten units.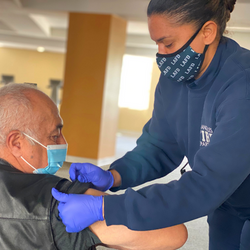 "We have to do more to make sure that the vulnerable, the isolated, and the elderly get vaccines quickly and safely, so they can rebuild their lives. This is where philanthropy can step in and help bridge the gaps," said Wallis Annenberg, Chairman, President, and CEO of the Annenberg Foundation. 
This funding infusion increases vaccination efforts in black and brown communities - areas hit disproportionately harder than the rest of the population with both COVID cases and fatalities. This can be partially attributed to the fact that patients from these communities are more likely to live in densely populated areas, hold essential jobs with higher risk settings, lack adequate access to healthcare, and have greater occurrences of underlying medical conditions. 
"We are proud to be a part of the effort to make these life-saving vaccines accessible and equitable to all of Los Angeles," said Casey Wasserman, President & CEO of the Wasserman Foundation. "As we know, the pandemic is clearly impacting certain neighborhoods and communities more than others. Supporting this effort is vital to regaining our collective strength. The faster we provide help to those at risk, the sooner we can rebuild the strength and spirit of Los Angeles."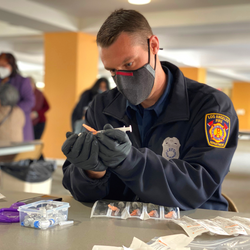 In partnership with CORE, Carbon Health, and dozens of community organizations, the LAFD-led mobile program establishes week-long vaccine clinics at various locations throughout Los Angeles. Consisting of a few collapsible canopies, a trailer (for refrigeration), folding chairs and traffic cones, these agile operations set-up quickly and can service hundreds of patients per day.
Many of the mobile sites also offer drive-thru services comparable to what is available at mega sites such as Dodger Stadium, but with a fraction of the wait time. In fact, a pair of LAFD paramedics, their CORE and Carbon Health teammates, and a handful of volunteers can dose between 800 – 1,000 patients each week at a single site.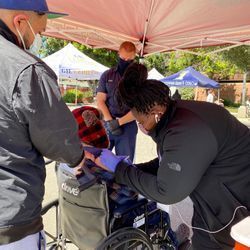 The program focuses on neighborhoods with a higher propensity for medical vulnerabilities, as mapped by the UCLA BRITE Center for Science, Research and Policy. The majority of these areas tend to fall within L.A.'s underserved, inner-city communities. "Bank of America is doing what we can to provide meaningful support to help make this happen, including working with the Los Angeles Fire Department on opening more inner-city vaccination sites," said Raul A. Anaya, President of Business Banking at Bank of America and Greater Los Angeles market president.
Ensuring a steady flow of resources for L.A.'s community vaccine sites and the LAFD mobile vaccination program is an ongoing challenge. The LAFD Foundation appreciates the wave of generous support from our corporate and philanthropic partners. "Paramount Pictures is proud to support the LAFD paramedics and frontline workers bringing hope and resources to communities in need," said Jim Gianopulos, CEO of Paramount Pictures. "Our contribution will help secure the resources needed for at-risk communities to receive speedy access to these lifesaving vaccines." 
"We are proud to partner with LAFD to help lead the charge on the roll-out of vaccination clinics across Los Angeles. An undertaking of this size and scale is unprecedented, and they have done a remarkable job managing the costs and logistical challenges of this widespread effort," said Rick Caruso, Founder, and CEO of Caruso. "They have been working tirelessly to protect our most vulnerable communities throughout the pandemic, and this is yet another example of firefighters doing whatever it takes to help our City."
The LAFD Foundation is actively seeking funding to provide supplies and equipment for the personnel administering these life-saving vaccines. Click the button below to donate towards this cause.