2019 FUNDING HIGHLIGHTS
The LAFD Foundation exists to fulfill the essential equipment, technology, and programmatic needs of our Los Angeles firefighters. Below are the Foundation's funding accomplishments for 2019.
Every donated dollar truly makes a difference. The Foundation's success would not have been possible without the generous outpouring of goodwill from communities and individuals across Los Angeles.
---
FIREFIGHTER HEALTH & SAFETY
Fire Chief Ralph Terrazas' key priorities include protecting our firefighters' physical and psychological health, and reducing their risks of near and long-term health concerns. Mental health and cancer prevention are two of the Foundation's top funding priorities in this category.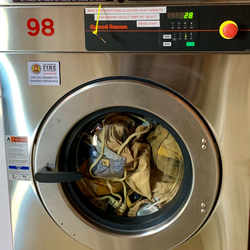 Extractors – Firefighters inherently risk exposure to carcinogens, making them 14% more likely to die of cancer-related illness. Commercial-grade washers were installed at five fire stations to remove carcinogens and other harmful particulates from dirty turnout gear with the power and speed of 100-Gs (one hundred times the force of gravity).
Early Injury Prevention – Training and duty-related injuries sideline firefighters, exacting a toll on LAFD personnel availability. Many of the common injuries, such as strains, sprains, and over-use trauma can be avoided with proper preventative steps. Grounded by the latest in kinesiology, sports medicine, and certified athletic training, the LAFD's new Early Injury Prevention program focuses on treating minor injuries, improving body mechanics, and educating members on wellness best practices. The Foundation provided funding to secure equipment needed to launch this innovative program.
Behavioral Health - Unfortunately, our first-responders experience trauma at a much higher rate than most occupations. Traumatic experiences lead to higher occurrences of PTSD among our firefighters, and sadly, also suicide. The Foundation partnered with LAFD leadership to secure the technology and training material for the Behavioral Health Program – a HIPPA-compliant program providing therapy services and educational materials to positively impact the mental health and wellness of all LAFD personnel.
---
WILDFIRE SEASON
The 2019 wildfire season was one of the most challenging in recent history. During October and November, the Saddleridge, Tick, and Getty Fires scorched over 14,000 acres, disrupted and displaced entire communities, and injured eight LAFD firefighters. The Saddleridge Fire alone claimed 25 structures, damaged nearly 100 more, and took 21 days to contain.
Fire season arrives earlier and earlier each year. These extreme conditions are lasting longer, producing a higher rate of incidents, and placing immeasurable wear and tear on firefighters. Wildfire-related needs are now a year-round funding priority for the LAFD Foundation.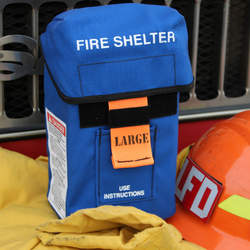 Emergency Fire Shelters – These personal fire shelters are deployed when the unthinkable happens and firefighters become overrun by flames. The fire shelters are light, compact and quickly deployed. They are designed to reflect radiant heat, protect against convective heat and trap breathable air within. An initial order of 540 fire shelters was provided in 2019, with more on the way for the 2020 fire season.
Pop-Up Tents – Extreme sun and heat conditions adversely affect our firefighters' ability to combat wildfires. These pop-up tents replaced aging equipment, and provided much needed shade during the Getty, Saddleridge, and Tick Fires.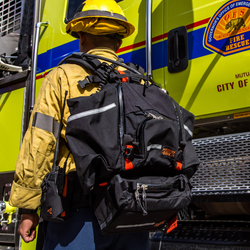 Hot Shot Packs – In partnership with the Governor's Office of Emergency Services (Cal OES), LAFD fire stations serving wildland areas are bolstered by a fleet of 4x4 off-road fire engines specifically for combatting wildfires. However, equipping the rigs and outfitting their crews is a local responsibility. These wildland fire engines have now been equipped with specialized "Hot Shot" gear-hauling backpacks, capable of storing several days-worth of supplies and equipment.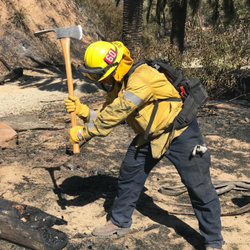 Wildland Brush Tools – Clearing fire roads and creating natural barriers in anticipation for fire season can save homes and lives. The process is labor-intensive and exhausting. These light and durable hand tools are specially designed to help firefighters and ground crews cut through tree limbs, clear brush overgrowth, and remove potential fuel sources. The LAFD Foundation outfitted five stations and Crew 3 (the LAFD's volunteer crew) with these tools.
---
ESSENTIAL TOOLS AND EQUIPMENT
The LAFD Foundation helps meet specific needs of the LAFD's specialty units, such as Air Operations, the Supply & Maintenance Division, the Fire Prevention Bureau, and wide-spread needs for the entire department.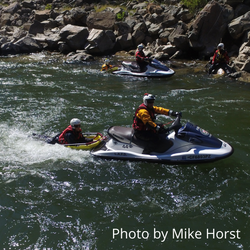 Jet Skis – Two Kawasaki 15F Series watercraft (jet skis) were provided to the Swift Water Rescue Unit. Since the jet skis can operate in as little as two feet of water, they will be deployed in washes, channels and side tributaries where a boat or rope system may not be an option. Funding was provided for both jet skis, equipment, a tow trailer, and upgrades to retrofit a second transport trailer.
Gas Monitoring Devices - LAFD inspectors depend on these hand-held air quality-monitoring devices to detect dangerous hydrocarbons, poisonous gases, and other inhalable/flammable threats when inspecting oil wells, cannabis cultivation and manufacturing facilities, and other potentially hazardous sites.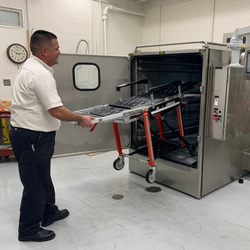 Gurney Cleaning System – Cleaning and disinfecting ambulance gurneys was a laborious process prior to the installation of a new automated system. This new system cleans and disinfects an intact gurney within a fully enclosed chamber, in as little as 20 minutes. It also reduces personnel exposure to contaminants and biofluids, which is especially significant when transporting potential COVID patients. Now Gurneys can be cleaned and returned to the field in the same day.
Start Pacs – The Air Operations crew needed a solution to off-set tapping into their helicopter batteries during pre-flight inspection, maintenance, and training. The three Start Pacs secured by the Foundation are portable power-up devices that help preserve valuable battery function for in-flight needs.
---
COMMUNICATIONS
As technology changes and needs expand, it is imperative the LAFD has the most up-to-date equipment to communicate internally and with the public. The LAFD received a variety of hardware and equipment solutions to use during wildfires and large-scale disasters, where traditional communications channels may not be accessible. From satellite phones and signal repeaters, to live-streaming equipment, more than $199,000 was allocated for communications equipment. These contributions will help keep communication channels open and enable the department to potentially set-up live audio and video feeds from remote field locations.
---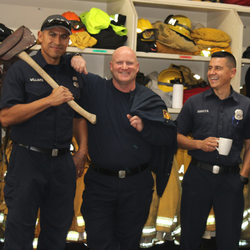 ADOPT-A-FIRE-STATION PROGRAM
The Adopt-A-Fire-Station (AAFS) Program improves the working and living conditions for firefighters and paramedics at all 106 fire stations across Los Angeles. Everyday essential appliances and exercise equipment sustain heavy wear-and-tear when used around the clock. When appliances break down, repairs/replacements are not covered in the city's budget. The Foundation allocated more than $250,000 towards AAFS needs in 2019, including:
Washers and dryers
Power tools and hand tools
Restaurant-grade ice machines
Treadmills, stationary bikes, free weights and exercise equipment
---
ONGOING NEEDS
In 2019, the LAFD Foundation funded a variety of tools and equipment needed to replace resources that were nearing the end of their service life. Funding was also provided to supplement equipment needs for graduates of the LAFD Recruit Academy. These needs include:
Heavy-duty rescue flashlights
Stainless steel hydration bottles
Hand-held thermal imaging cameras
Hydration backpacks for wildfire season
---
EDUCATION & TRAINING
The LAFD Foundation provided more than $185,000 in funding for four vital recruitment and outreach programs administered by the Department. These programs offer teens and young adults the opportunity to explore careers in the fire service while they develop skills in leadership, teamwork, and overall confidence. These programs provide an invaluable service to underserved communities, and act as a recruiting pipeline for future generations of the LAFD family.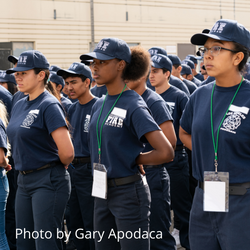 Cadet Program - The LAFD Cadet program is designed for 14-20-year-old individuals who are serious about pursuing a career with the fire service. Cadets who participate in the program are assigned to a fire station and work with LAFD members at the station to learn the day-to-day duties and responsibilities of a firefighter.
High School Magnet Program - The Magnet High School Program takes place at four Los Angeles Unified School District high schools and is intended to prepare students, upon graduation, for entry-level careers and post-secondary education in the field of Public Service. Participants develop the leadership, social, and technical skills needed to achieve success in this and other fields. Students undergo basic physical fitness training and are immersed into coursework in firefighting and emergency medicine. The program serves 400 high school students.
Youth Fire Academy - The Youth Fire Academy program educates, mentors, and teaches life skills to high school students throughout Los Angeles. The program is designed as an introductory program that spans seven weeks and is held in seven-hour sessions on Saturdays. Although the program is open to students from all socio-economic backgrounds, a majority of the students participating in the program come from underserved neighborhoods.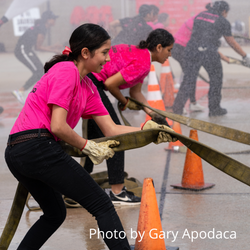 Girls Camp – The LAFD Girls Camp exists to support, inspire and empower strong young women. The camp is led by mostly female LAFD firefighters and volunteers from various fire service agencies throughout the country. These two-day workshops provide hands-on exercises, CPR training, leadership building skills, and insight into pursuing career opportunities in fire service.
---
For more information about the items or programs highlighted above, please contact:
Tara Gurlides, Development Director
(310) 552-4139 | Tara@supportLAFD.org