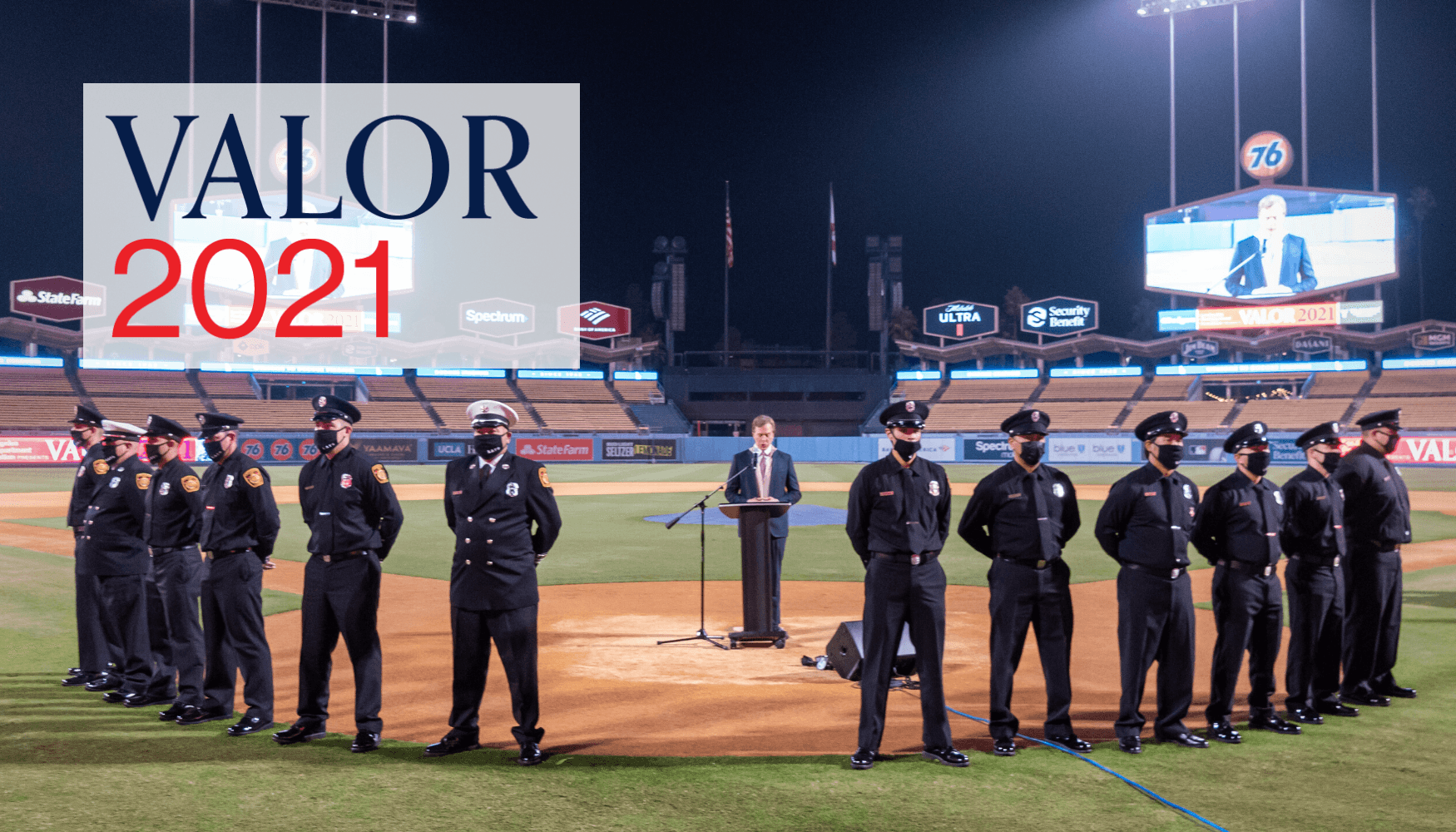 The Los Angeles Fire Department (LAFD) Foundation, hosted the 2021 VALOR Awards ceremony on November 10, 2021 at Dodger Stadium. This annual celebration honors exemplary LAFD members for outstanding service above and beyond the call of duty.
Firefighter Aaron King received the Department's highest honor, the Medal of Valor, for preventing a stranger's suicide attempt at extreme personal risk to himself.
In addition to the presentation of the Medal of Valor, Metropolitan Fire Communications received the inaugural Division of the Year Award. The Annenberg Foundation was presented with the Community Impact Award, and Caruso received the Corporate Impact Award.
Firefighter/Paramedic Chadwick Qualley and Firefighter David Stigger each received a Letter of Special Commendation for their actions during a dangerous rescue operation at the scene of multi-vehicle freeway collision.
For the first time in the Department's 135-year history, 21 members were recognized for their involvement and actions relating to a single incident - the horrific Boyd Street Explosion, which occurred on May 16, 2020. Nine members were presented with the Fire Chief's Certificate of Appreciation. Ten members were awarded a Letter of Special Commendation, and two particularly brave members accepted the Medal of Merit.
NBC4 Anchor and Reporter Robert Kovacik graciously served as the emcee for his fifth consecutive VALOR ceremony. As the LAFD Foundation's signature fundraising event of the year, the VALOR Awards brought together more than 500 guests including LAFD Fire Chief Ralph Terrazas; business and community partners; civic leaders and elected officials; volunteers; friends and family members. The event included displays of LAFD apparatus, including digital fire extinguisher demos and an in-program demonstration by the Arson Canine Unit.
Click below to view a recording of the live ceremony or view the the VALOR online photo album.
NOTE: ceremony video begins at the 34:45 mark.
---
2021 HONOREES
MEDAL OF VALOR
Firefighter III Aaron King
MEDAL OF MERIT
Captain II Victor Aguirre
Apparatus Operator Ian Soriano
LETTER OF SPECIAL COMMENDATION
Firefighter/Paramedic Jose Carreon
Firefighter III Carlos Cativo
Firefighter III Jacob Gonzalez
Apparatus Operator Garrett Lew
Emergency Incident Technician Marcus Meza
Firefighter III Ian Moore
Firefighter/Paramedic John Norton
Firefighter/Paramedic Chadwick Qualley
Captain I Lawrence Salas
Firefighter/Paramedic Sergio Saenz
Firefighter III Daniel Stalie
Firefighter II David Stigger
FIRE CHIEF'S CERTIFICATE OF APPRECIATION
Captain I Ed Barkley
Engineer Scott Brennan
Firefighter Nick Estrada
Firefighter/Paramedic Kenneth Fraser
Firefighter/Paramedic Joseph Giesregen
Firefighter/Paramedic Stephen Osterberg
Firefighter/Paramedic Ryan Ramirez
Firefighter/Paramedic Andrew Tom
Engineer Mark Tostado
DIVISION OF THE YEAR
Metropolitan Fire Communications
---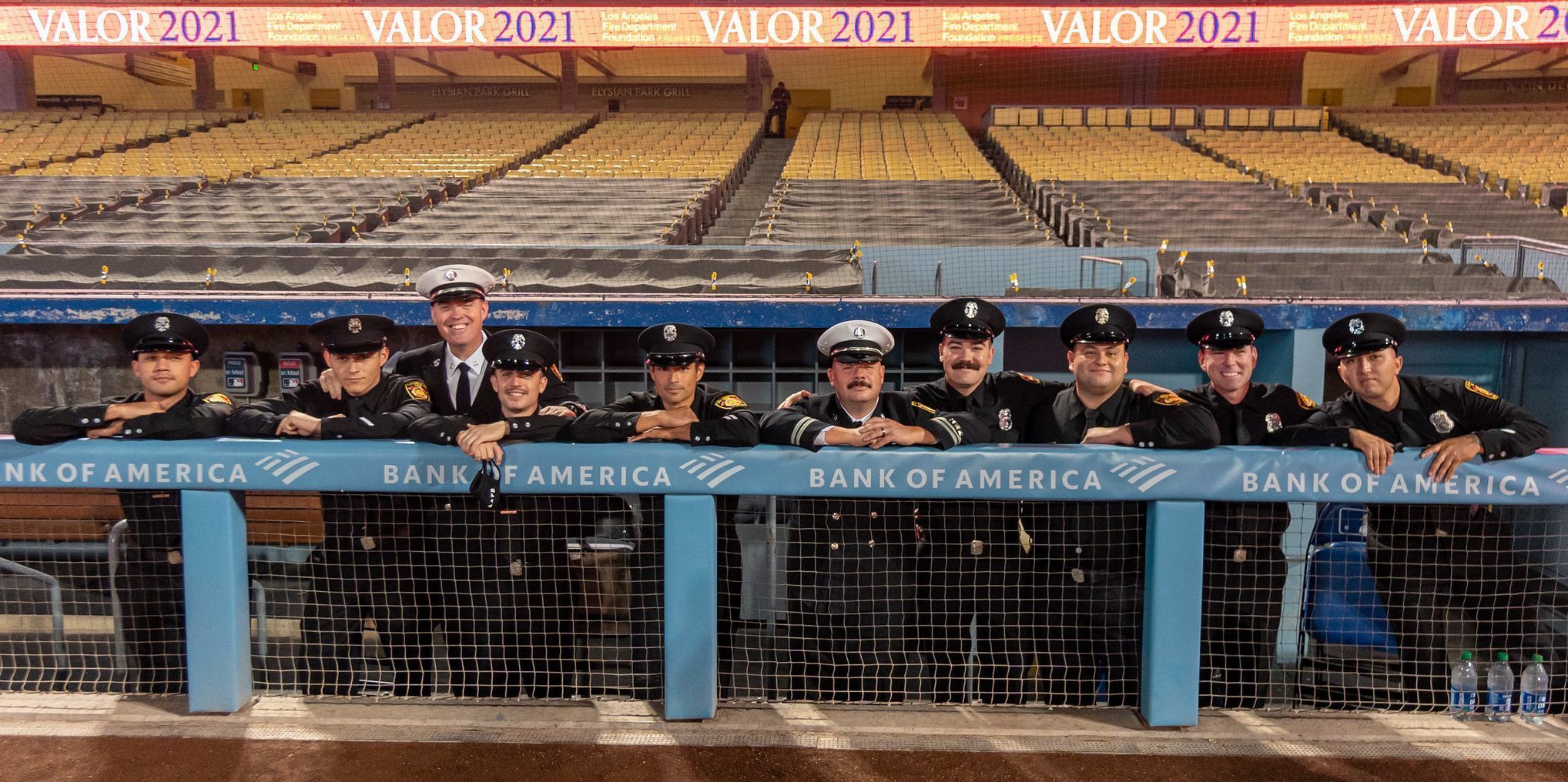 2021 VALOR honorees gathered in the dugout at Dodger Stadium.