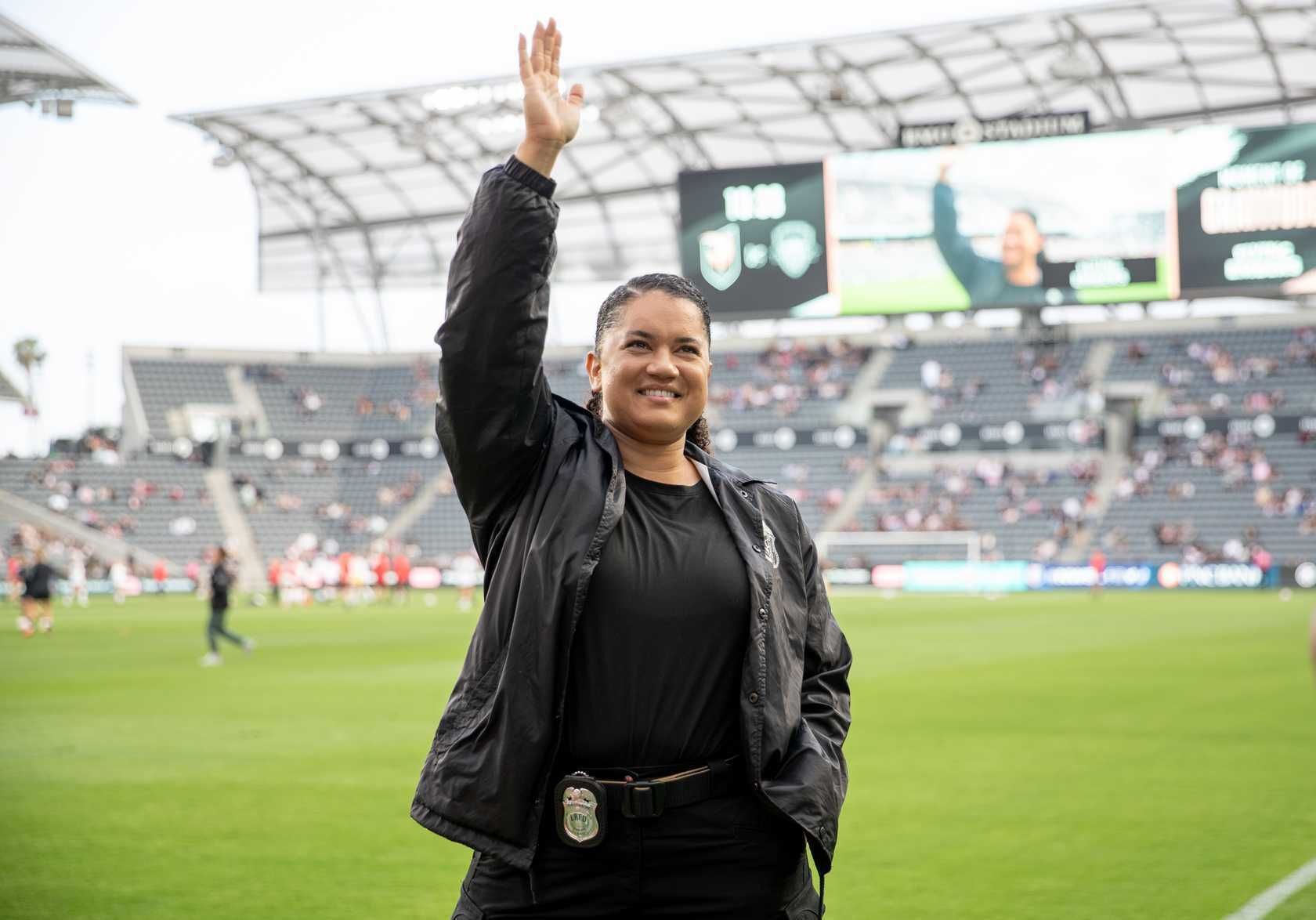 A Moment of Gratitude
Standing close to the manicured grass at BMO stadium, Arson Investigator Afara Lalaind waited patiently for her name to be called. The smell of the manicured grass filled each breath. With the temperature a perfect mid-70, it was an ideal weekend for a trip to a local arena. But this was not just a fun day trip. It was May 13, and for Investigator Lalaind, it was a decidedly special occasion.
"Angel City fans, please give a warm welcome to Investigator Afara Lalaind of the Los Angeles Fire Department (LAFD)!" The announcer's voice boomed over the speakers only to be drowned out a moment later by the roar of the crowd.
Afara walked out to the edge of the pitch, stopping just short of the painted white line separating the spectators from the players of Angel City Football Club (ACFC). Thousands of fans stood and cheered as the massive monitors displayed Afara's smiling face.
"Angel City Football Club thanks Investigator Afara Lalaind and the LAFD for all they do. And this has been our Moment of Gratitude!"
An Emerging Leader
Afara found the LAFD later in life after taking a fire science course in college. "What drew me [to LAFD] was the community. This job is everything I want to do." Afara recalled her instructor at community college where she studied Fire Science. "They blew my mind. They inspired me to pursue this career." Afara had herself grown up with a working mother, a nurse, and had learned the value of serving her community from a young age.
Joining the LAFD proved to be a dream come true, but also a major challenge. "Juggling full-time parenting, the physical requirements, and learning LAFD operations…it's intense." But the camaraderie and the satisfaction of serving the public kept Afara motivated through her years as a firefighter and paramedic. Now, recently promoted into the Arson Investigations Unit, Afara is learning to "keep four plates spinning at all times."
"It's a more systematic approach when investigating a fire. You have to approach without any bias, and to come out with every theory you can. Then you look at the evidence to disprove your own hypothesis."
Afara was humbled to be welcomed by ACFC for this honor and is grateful to the LAFD and the LAFD Foundation for their support in making it happen. "When people see something in you, believe them." After a whirlwind weekend, Afara returned to work to get back to serving the city. When asked about her goals for the future, she laughed.
"In five years? I'll probably finally understand this job. Coming to Arson is like starting a whole new career. I sometimes miss being at a [fire station] sometimes, going on calls and getting dirty. [Arson is] dynamic, but so intensely rewarding." Arson is a challenging and fulfilling department, and Afara looks forward to learning and growing with the team. "Here, we bring closure to an incident and justice to our LA community."
Afara would tell those future leaders in the crowd to "take every opportunity and every door that opens. The things that give you a little bit of fear? Those are the things you should walk toward."
Show your support local firefighters
Approximately 97% of the city's budget for LAFD goes towards personnel costs, leaving just 3% to cover the cost of essential equipment, new technology, and training programs. The disparity creates funding shortfalls for equipment needed for everyday incidents and resources for specialty units (like the Urban Search & Rescue and Air Operations units).
Your support can make all the difference. Donate today!