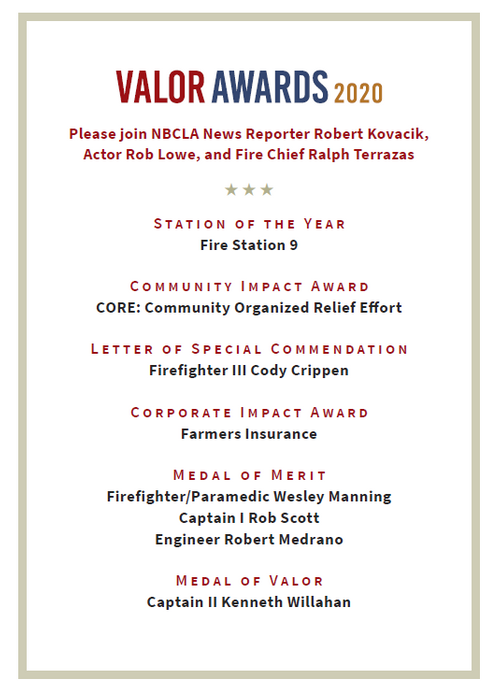 THE 2020 VALOR AWARDS CEREMONY HAS BEEN POSTPONED.
Please note that there will be no event on Thursday, November 5th. 
Due to circumstances beyond our control, the 2020 VALOR Awards ceremony is being postponed until early 2021. The Los Angeles Fire Department and the LAFD Foundation offer their sincerest apologies for any inconvenience this may cause. 
The goal remains to host a live in-person, socially distanced ceremony at Dodger Stadium befitting our honorees. We hope that postponing for a later date will allow for this to happen. 
Please refer to the FAQ below for additional details.
---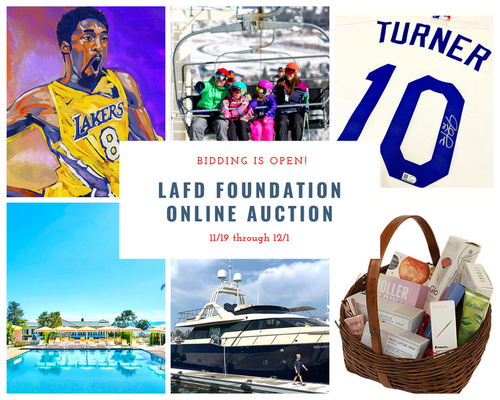 All proceeds will help the Los Angeles Fire Department Foundation provide life-saving tools and equipment for our firefighters.
This year's anticipated funding priorities include:
• Two sets of max-protection structure fire gloves for every firefighter
• Bailout system equipment to escape unsafe structure conditions
• COVID-related PPE for firefighters and patients
---
Frequently Asked Questions (FAQ)
Why is VALOR being postponed? 
An unfortunate combination of factors led to this difficult decision, including the current fires burning throughout Southern California, several honorees being unable to attend, and the ongoing effects of the pandemic. 
What is the new date or timeframe for the rescheduled event? 
The estimated timeframe for rescheduling is early 2021. However, this is contingent upon several external factors - namely the state of pandemic safety guidelines. Once a new date is selected, the LAFD Foundation will be sure to make the announcement with plenty of time for interested parties to plan accordingly. 
Will the rescheduled event still take place at Dodger Stadium? 
The Dodgers have been generous and longstanding supporters of the LAFD. It is our sincere hope that we will be able to hold the rescheduled ceremony at Dodger Stadium in accordance with latest social distancing guidelines. 
What will happen to items donated for the VALOR online silent auction? 
The online silent auction will take place here at supportLAFD.org/valor on Monday, November 23rd. Please bookmark this page and be sure to mark you calendar! 
Is it possible to request a refund? 
Ticket purchases and sponsorship will automatically rollover and apply to the rescheduled event slated for early 2021. If you would prefer a refund, please contact Tara Gurlides at tara@supportlafd.org.