Clear Early. Clear Often.
Chaparral and ornamental vegetation are part of what make life in L.A. hillsides so appealing. The downside is overgrown brush and dry vegetation create risks for nearby neighborhoods, especially during wildfire season (typically August - December).
Wildfires are an unfortunate part of life in Los Angeles. There are no guarantees for properties in high-risk communities, but by following local brush clearance requirements, you can give firefighters a stronger chance of protecting your home in the event of brush fire.
---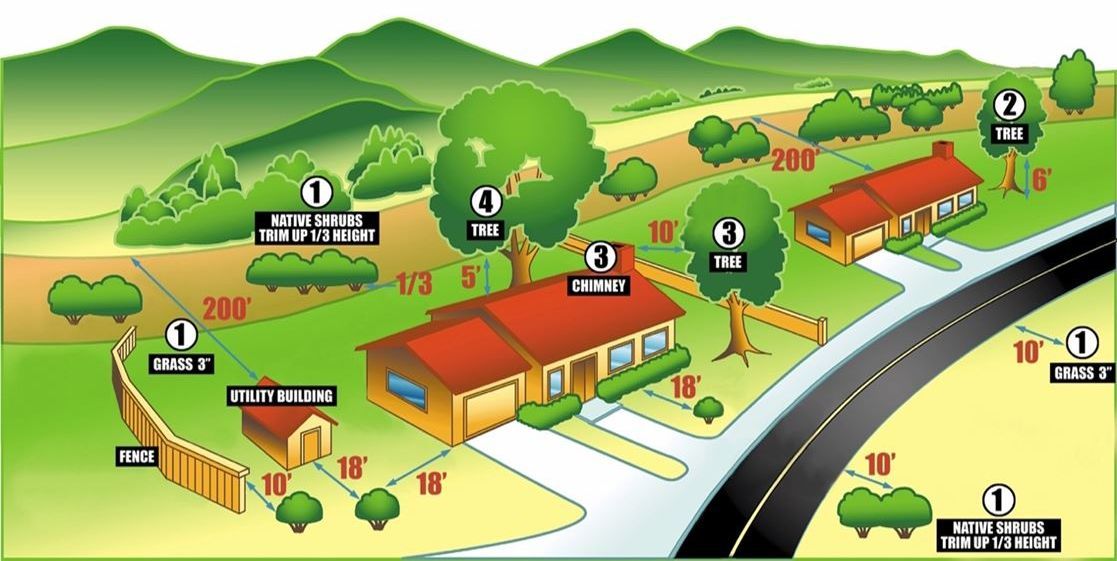 SECTION NUMBERS CORRESPOND TO THE DIAGRAM ABOVE
1.  Areas within 200 feet of structures and/or 10 feet of roadside surfaces or combustible fence:
Grass should be cut to three inches in height.
Shrubs should be trimmed up from the ground to 1/3 of their height with all dead material being removed.
Native brush shall be reduced in quantity to three inches in height - This does not apply to individual native shrubs spaced a minimum of 18 feet apart.
 2.  For trees taller than 18 feet, trim lower branches so no foliage is within six feet of the ground, and remove all dead material.
For trees and shrubs less than 18 feet, remove lower branches to 1/3 of their height, and remove all dead material.
3.  Trees shall be trimmed up so the foliage is no closer than 10 feet from the outlet of a chimney.
4.  All roof surfaces should be free of accumulation of leaves, needles, twigs and any other combustible matter.
Maintain five feet of vertical clearance between roof surfaces and portions of overhanging trees.
5.  All plant debris should be removed in a legal manner. Cut vegetation may be machine processed (i.e., chipped, mulched) and spread back onto the property.
Mulch/wood chip depth may not to exceed three inches within 30 feet of structures, and six inches beyond 30 feet of structures.
Mulch/wood chips should not be spread within 10 feet of any usable roadside.
VISIT LAFD.ORG FOR MORE INFORMATION ON BRUSH CLEARANCE REQUIREMENTS
Diagram courtesy of Los Angeles Fire Department