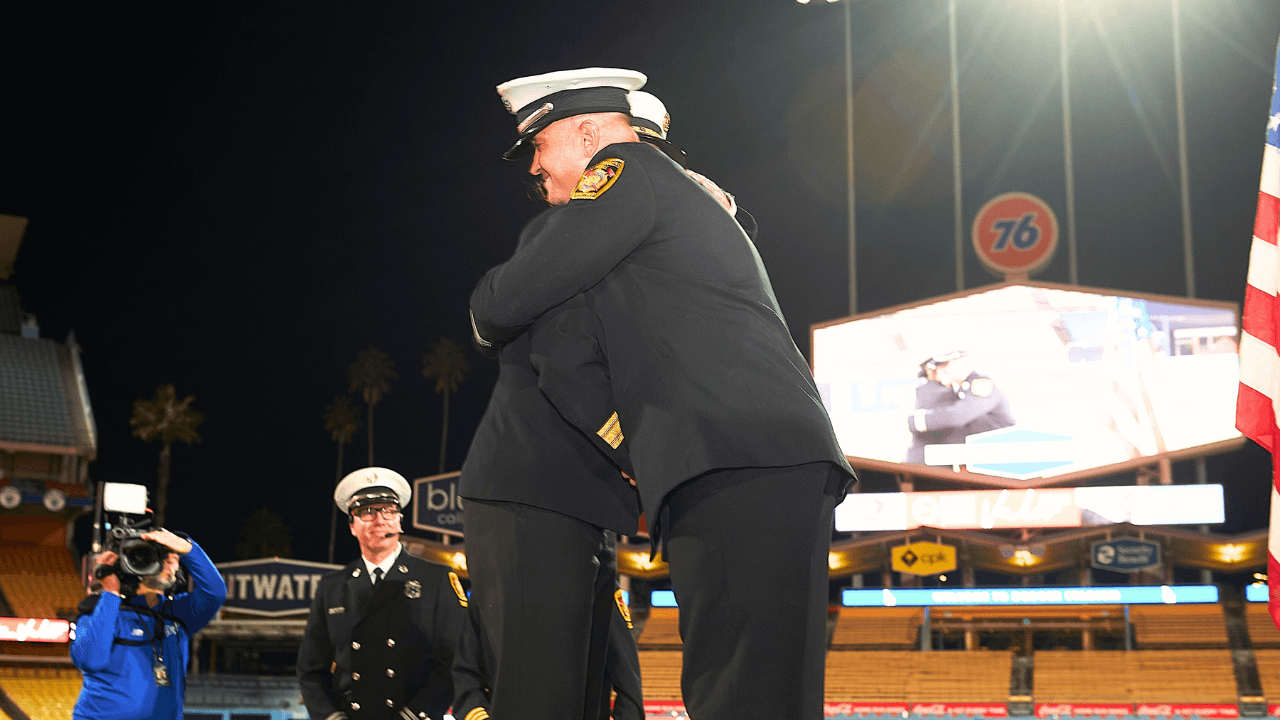 Everyone knows firefighters for firefighting, but few fully understand the breadth and scope of what the Los Angeles Fire Department (LAFD) does.
The LAFD's annual Valor event offers guests an intimate glimpse into the myriad sacrifices made by firefighters to keep Los Angeles safe. With over 450 attendees, including LAFD Foundation donors, community advocates, and local dignitaries, Valor 2023 was a sold-out success.
Right on the field at the iconic Dodger Stadium where the event took place, NBC 4's Robert Kovacik kicked off the program as the Valor 2023 master of ceremonies. LAFD Fire Chief Kristin Crowley and City of Los Angeles Mayor Karen Bass spoke, expressing pride and admiration for all sworn LAFD personnel and their daily, often unrecognized acts of courage.
After a catered dinner on the field, surrounded by the grandeur of the legendary Dodger Stadium, the SophiaGrace Foundation and Cedars-Sinai received the Foundation of the Year and Community Impact Awards, respectively. The Arson Counter-Terrorism Section was honored as the LAFD Unit of the Year.
For what is perhaps the most moving portion of the event, guests heard and saw the courageous stories of six LAFD members unfold as they received their respective awards:
Captain Florin Sarbu and Apparatus Operator David Duran received Letters of Special Commendation for rescuing three LAFD members who were entrapped by ceiling debris while fighting the Victory Baptist Church fire.
Firefighter/Paramedic Darren Lloyd received a Letter of Special Commendation for his off-duty search for a homeless woman who had given birth while on drugs, which led to the infant being found alive and receiving the care needed to survive.
Firefighter Kari Field and Firefighter/Paramedic Jason Lawrence received Medals of Merit for saving the life of a UPS driver who went into anaphylactic shock after a bee swarm attack.
Apparatus Operator Tai Trinh received a Medal of Merit for safely rescuing a mother and daughter who had been trapped in their car when a sinkhole formed underneath them.
Attendees left the event feeling grateful, humbled, and inspired. Ticket purchases, generous sponsorships, silent auction bids, and an exciting paddle raise at the close of the event culminated in the LAFD Foundation surpassing its fundraising goal of $600,000, which will help support the purchase of new structure fire helmets for the LAFD.
The LAFD Foundation extends sincere thanks to all Valor 2023 participants, sponsors, attendees, and everyone who made this year's event one to remember.
Who knows what harrowing acts of bravery will be amplified at Valor 2024?
Click here to view photos from Valor 2023.