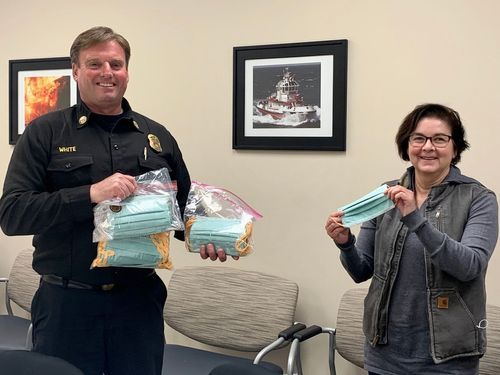 Local Chef Coordinates Movement to Hand-Make Masks for LAFD
April 1, 2020 – Los Angeles, CA
Chef Jane Glenn heard through a friend that firefighters were headed for a shortage of face masks at the onset of the coronavirus outbreak. As a breast cancer survivor, she had a box of N95 masks stashed away from her recovery regimen. Jane dug out the box, which turned out to have 50 or so unused masks and decided to drop them off at the LAFD training facility near downtown L.A. She figured the firefighters would accept her small donation and put them to good use.
PHOTO: Chef Jane Glenn (right) presents the first batch of face masks to Assistant Chief Wade White, LAFD Supply & Maintenance Division. Volunteer seamstresses across L.A. handcrafted more than 500 masks for patients being transported by LAFD ambulances.
Coincidentally, Assistant Chief Wade White happened to be onsite at the same time Jane stopped by to drop off the masks. The two struck up an impromptu conversation about the LAFD's working conditions and elevated safety protocols. Jane's jaw dropped when she heard the severity of the LAFD's rapidly diminishing supplies of personal protective equipment (PPE).
"How could this be? One just kind of assumes preparations are in place to safeguard against these situations," expressed Jane. "My little box of masks would become a drop in the bucket against this immense need."
Her mind churned as she drove home to Pasadena. She knew she needed to take action, and by the time she pulled into her driveway, she had a plan. Jane raced to her computer and began researching. She knew buying masks was not feasible, so she pivoted to the next option, looking at how masks were made and what materials would be needed.
Jane looked to her social networks like Nextdoor for help, guidance and inspiration. Almost immediately, she connected with Jen Orsini, a retired fashion designer, textile expert and former college instructor. Jane tapped Jen to lead the design and mask development. Now they just needed the materials.
Next, Jane contacted a Southland medical supply company and bought out their remaining inventory of non-woven medical-grade fabrics, a key component to surgical masks. Similar to paper in texture, these disposable fabrics are used to create barriers with breathability.
Simultaneously, Jen reached out to her good friend Robin Cox, owner of a local fabric shop. Robin was eager to help and supplied the materials for the inner layer of the masks that would act as the filter.
With input from Jen and Robin, Jane had the materials and template for the mask prototype ready to go less than 48 hours after visiting the LAFD training facility. Then came time for Jane to assemble her workforce. The first call went out to quilters, since experienced quilters were more likely to have the workspace and tools to help prepare the mask "toolkits".
The quilters were provided with detailed instructions (from Jen) and the bulk materials to cut the individual mask components. Once all the pieces were cut, Jane coordinated distribution of "toolkits" to 23 volunteer seamstresses across L.A. Each toolkit contained the necessary materials to assemble 20-60 masks. 
From Altadena to Culver City, La Crescenta to Silverlake, Jane would spend the next two weeks crisscrossing Los Angeles, dropping off materials and picking up finished masks. She even sustained a tire blowout on the rebound from a pick-up in Granada Hills.
For this unemployed chef and single mom, the effort, expense and sacrifice have all been worth it. "Our firefighters take so many risks to keep us safe. It's only right that we try to find ways to help give back and show them our appreciation," expressed Jane. "This has been such a remarkable effort by everyone involved. We've assembled more than 500 masks that we plan to deliver to the LAFD by the first week of April. Obviously, we know the firefighters won't be able to wear these. But at least they can be provided to patients as an added safety precaution."
NOTE: LAFD safety protocols dictate that any patient exhibiting potential signs/symptoms of COVID-19 be fitted with a surgical mask when being transported via ambulance. The masks donated by these exceptional volunteers have been cleared for this specific use, given volunteers adherence to the group's cleaning, sterilization and sanitizing guidelines.
---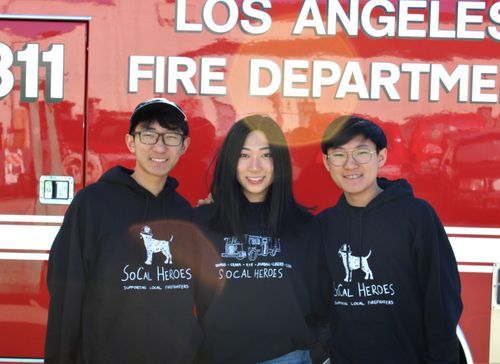 COLLEGE STUDENT DESIGNS COOL APPAREL, DONATES PROCEEDS TO LAFD
January 6, 2019 - Los Angeles, CA
College student and aspiring designer Samantha Ko creates unique goods that do good. More specifically, she designs cool apparel and accessories, sells them via her online Etsy shop (CHOREANSS Apparel), and donates the proceeds to worthwhile causes.
Samantha creates fire-inspired gear and donates 100% of the proceeds from this line to the LAFD Foundation as a way to thank the firefighters that helped protect her community during the last few wildfire seasons.
The impact and heartache of the 2017 Skirball Fire hit close to home for Samantha, prompting her to launch her first wave of tees and hoodies.
After November's Getty Fire struck, she rolled out her second design featuring a Dalmatian with some serious head wear.
Samantha's creative spirit and generosity are powerfully inspiring. Even though a career in the fire service may not be on her horizon, Samantha has surely created a fun and impactful way to help her community.
Photo: Samantha Ko (center) wearing her original hoodie design, accompanied by her twin brothers.
---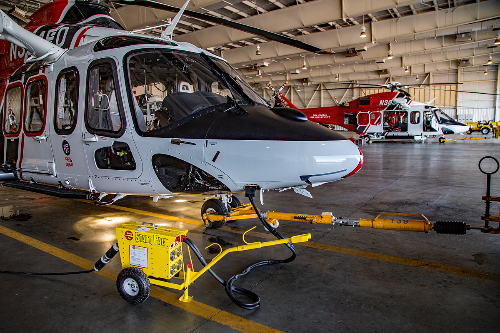 Donors Help Power Air Operations
Funding from donors recently allowed the LAFD Foundation to support Air
Operations with three "Start Pacs." These portable devices provide electricity to the
unit's specialized helicopters for areas such as:
1 – Pre-flight Inspections
Every morning a pre-flight inspection is made on each helicopter. As certain items
on the checklist require electrical power, crews previously had to use the aircraft's
auxiliary power unit (APU). Using the APU could potentially deplete the aircraft's
batteries, which could delay a response to an emergency.
2 – Hoist Maintenance
The LAFD's helicopters are equipped with a powerful hoist for situations such as
rescuing an injured hiker from a mountain top or retrieving someone from a river.
Each time the hoist is used, it must be inspected by mechanics upon the aircraft's
return. This inspection would require using the aircraft's APU for power.
3 – Ground-based Training
Air Operation's flight crews spend hundreds of hours training at their base between
missions. Trainings can range from 'dry running' cockpit operations to practicing the
steps to bring a patient inside the aircraft during a hoist rescue. Both these exercises
would require using the aircraft's batteries.
 
---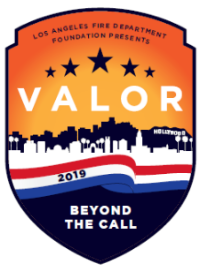 SAVE THE DATE: VALOR 2019
Mark your calendar for Valor: Beyond the Call on November 6, 2019 at the Westin Bonaventure. This night features unforgettable storytelling and recognition of the heroic actions of LAFD firefighters who went above and beyond the call of duty over the past year. 
MORE INFO TO COME
---
New Packs Support the LAFD's Backs
In December 2015 the California Governor's Office of Emergency Services (Cal OES) granted the LAFD five specially designed wildland fire engines built to help provide mutual-aid resources against brush fires. For more than three years these engines have been maintained and staffed by a total of 25 LAFD firefighters.
While the Governor's office provided the large equipment, the firefighters that staff the Cal OES fire engines need specialized equipment to support their operations. Fighting brush fires demands long, strenuous hours of work in rugged terrain. This makes the need for new gear tailored to extended operations crucial.
In response to this need, the LAFD Foundation stepped in to provide each of these firefighters a wildland extension pack. This new equipment, which compliments the recently distributed hydration backpacks, offers a wide range of advantages from the previous equipment that these firefighters used.
Out with the Old (bottom left), in with the New (bottom left)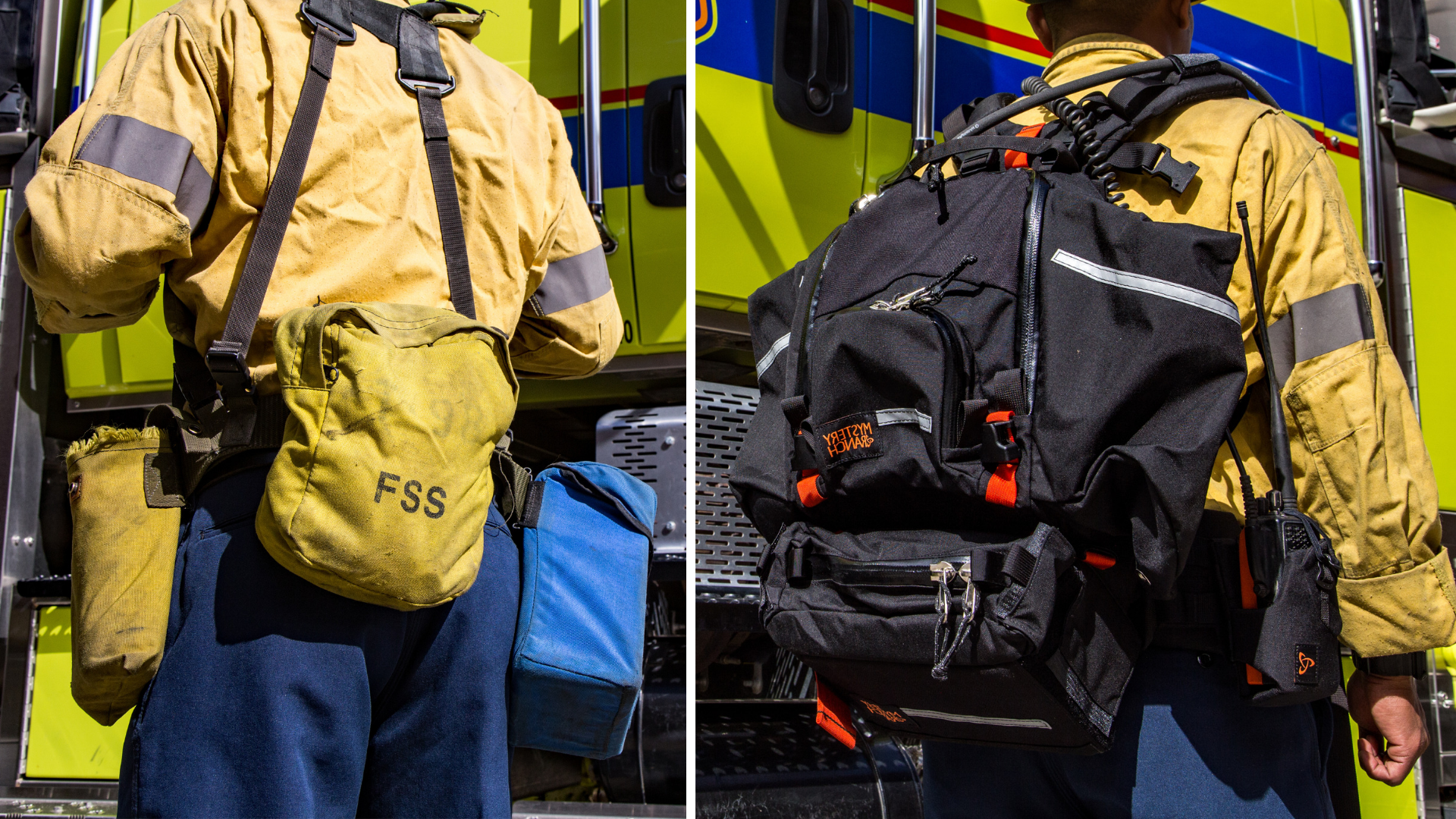 Wildland Belt

- 1960's-era technology
- Limited water storage (roughly 1.8 liters).
- Bulky fire shelter placement.
- Little to no back support.
- Limited tool storage/placement.

Hydration Backpack + Extension Pack

- Includes a 3.1 liter water bladder that can be filled with ice to keep cool
- Over-the-shoulder hose and mouthpiece allows hydration while working
- Wing pockets can hold an additional 64 ounces of water or fuel per-side
- Fire shelter placement below backpack is located at hand-level
- Dual, velcro sides provide immediate access to fire shelter
- Specially designed spine provides back support and distributes weight across hips
- Load-bearing shelf supports the placement of a hose line