Perfectly Imperfect Big Rig Wins Howling Heroes Top Honor
Congratulations to Big Rig, the winner of the 2022 Howling Heroes contest! Big Rig was the top vote earner in this year's competition and a resounding favorite amongst voters and judges for his inspiring backstory.
Big Rig is a four-year-old micro Bully born with a double cleft lip and palate. He was found abandoned in a dumpster. Luckily, he was rescued and nursed back to health by Road Dogs Rescue, a non-profit specializing in helping sheltered and unwanted bulldogs.
His owner, Francoise Koster, describes him as a lovable tank who is "perfectly imperfect" and makes friends and spreads smiles everywhere he goes. Big Rig is an inspiration to many families with disabled or "different" dogs. He loves naps, swimming, and hanging out with his doggie sisters.
Big Rig and his fellow finalists met KLTA News Anchor Lu Parker at the LAFD training center next to Dodger Stadium for a news story announcing the contest results. Click here to view photos from the taping.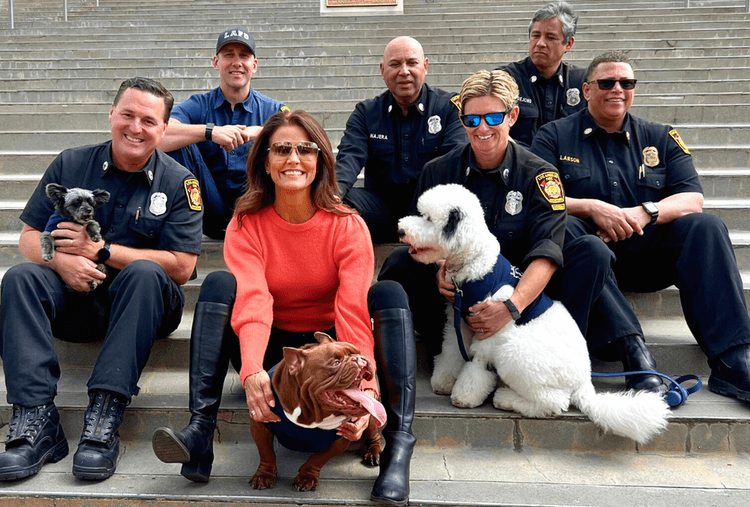 Runner up was presented to Sampson, an integral part of a family with a child with autism. Every day, Sampson waits outside his home to greet the school bus full of children with special needs. The kids light up when they see him, and he is beloved by the students, teachers, and therapists at his family's school.
Second runner-up was awarded to Willy, a stray saved from the alleys near Fire Station 33 in South Los Angeles. Willy was about four years old when her owners first encountered her rummaging through garbage bins. She was skittish and distrusting, and it took her owners more than a month to gain her favor. In time, Willy became friendly, loving, and fiercely protective of her new family.
The 2022 Howling Heroes contest was a resounding success. In total, 136 canine contestants helped raise $21,220 towards fulfilling critical needs, like securing a second dog for the LAFD's Canine Therapy Program.
Contest results can be viewed by visiting SupportLAFD.org/howling.
For more information on the LAFD's Canine Therapy Program, please visit SupportLAFD.org/k9.
---
To see our Howling Heroes event page and all of the 2022 contestants, click the button below: