The LAFD
The sad reality is that if you live in the city of Los Angeles, at some point you or a loved one will experience some type of emergency. Whether its a car accident, heart attack, earthquake, shooting - when that time comes - you will be thankful that members of the LAFD will be there in minutes. 
With over 1,500 calls a day, the range of emergencies that the LAFD responds to is extensive. Did you know that 85% of incidents responded to by the LAFD are medical? The LAFD does a much more, truly live-saving work than rescuing cats from trees. 
Interesting Facts
Every 35 seconds, the LAFD responds to a call.
The LAFD has over 106 neighborhood stations across 471-square miles.
At any given time, there are over 1,000 LAFD firefighters and paramedics on duty.
---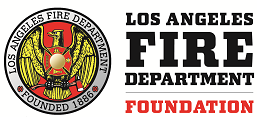 Our Mission
The Los Angeles Fire Department Foundation supports the LAFD in protecting life, property, and the environment by providing essential equipment, training, and public outreach programs to supplement city resources.
Why We Exist
Founded in 2010 by corporate and civic leaders to support the Los Angeles Fire Department when the city's budget could not provide. The Los Angeles Fire Department Foundation exists because only 97% of the budget allocated to the department covers just personnel. Leaving just 3% to cover the cost of essential equipment, new technology and training to help firefighters execute their job and safely return to their family.
Our 3 Guiding Principles:
Active communication
Responsiveness
Transparency
The Los Angeles Fire Department Foundation is a registered 501(c)(3) nonprofit. Federal Tax ID: 27-2007326