The LAFD
The Los Angeles Fire Department (LAFD) is responsible for covering the second largest metropolitan area in the nation with over 3,500 firefighters embedded in 106 stations throughout the city. The LAFD responds to a call every 35 seconds, making it one of the busiest in the nation. Despite the breadth and scope of what the department covers, the LAFD often has needs that the city's budget cannot cover.
The LAFD is a full-spectrum life safety agency protecting more than four million people who live, work and play in Los Angeles each day.
Interesting Facts
The LAFD responds to approximately 1,500 emergency calls per day.
The LAFD has over 106 neighborhood stations across 471-square miles.
At any given time, there are over 1,000 LAFD firefighters and paramedics on duty.
---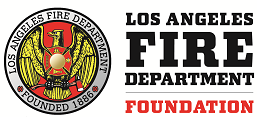 Our Mission
The Los Angeles Fire Department Foundation supports the LAFD in protecting life, property, and the environment by providing essential tools, equipment, and training resources for our firefighters.
Why We Exist
Approximately 97% of the fire department's budget is allocated to personnel expenses, leaving just 3% to cover the department's other needs. The LAFD Foundation is a non-profit organization that was created by civic and corporate leaders in 2010  to supplement the fire department's budget by providing first responders with essential equipment, new technology, and educational resources that would otherwise go unfunded.
The Los Angeles Fire Department Foundation is a registered 501(c)(3) nonprofit.
Federal Tax ID: 27-2007326